Product Pathways - Growth Factors/Cytokines
TSLP (D7U1X) Rabbit mAb #97630
PhosphoSitePlus ® protein, site, and accession data: TSLP
| Applications | Dilution | Species-Reactivity | Sensitivity | MW (kDa) | Isotype |
| --- | --- | --- | --- | --- | --- |
| W | 1:1000 | Human, | Endogenous | 19, 22 | Rabbit IgG |
Species cross-reactivity is determined by western blot.
Applications Key: W=Western Blotting,
Specificity / Sensitivity
TSLP (D7U1X) Rabbit mAb recognizes endogenous levels of total TSLP protein. This antibody recognizes a 70 kDa protein of unknown identity.
Source / Purification
Monoclonal antibody is produced by immunizing animals with recombinant human TSLP protein.
Western Blotting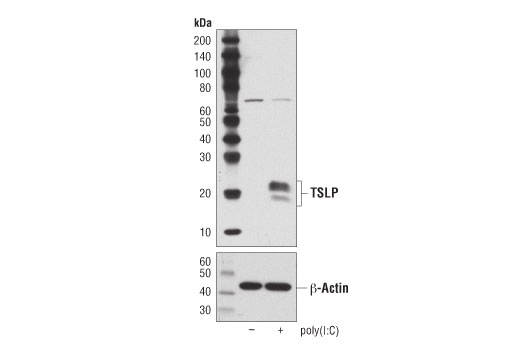 Western blot analysis of extracts from NHBE (normal human bronchial epithelial cells), untransfected (-) or transfected with poly(I:C) (10 μg/ml, 7 hr; +), using TSLP (D7U1X) Rabbit mAb (upper) or β-Actin (D6A8) Rabbit mAb #8457 (lower). Brefeldin A #9972 was added to cells at 300 ng/ml one hour after the start of the transfection.
Background
TSLP (thymic stromal lymphopoietin) is a cytokine produced by epithelial cells at barrier surfaces and granulocytes (1). TSLP acts on dendritic cells, lymphocytes, and granulocytes by binding to a heterodimer composed of TSLPR (TSLP receptor) and IL-7Rα (2-5). Constitutive expression of TSLP at barrier surfaces contributes to homeostasis by promoting generation of noninflammatory dendritic cells (6). TSLP promotes the differentiation of Th2 cells and type 2 immune responses both in response to helminth infection and in the context of atopic diseases including asthma and atopic dermatitis (7-13).
Application References
Have you published research involving the use of our products? If so we'd love to hear about it. Please let us know!
Protocols
97630 :
Companion Products
---
For Research Use Only. Not For Use In Diagnostic Procedures.
Cell Signaling Technology is a trademark of Cell Signaling Technology, Inc.
Tween is a registered trademark of ICI Americas, Inc.
Cell Signaling Technology® is a trademark of Cell Signaling Technology, Inc.
用户评论 --- 共 0 条
该产品暂无评论!