Product Pathways - Vesicle Trafficking
Golgin-97 (CDF4) Mouse mAb #97537
PhosphoSitePlus ® protein, site, and accession data: GOLGIN97
Applications
Dilution
Species-Reactivity
Sensitivity
MW (kDa)
Isotype
W
1:1000
Human,
Endogenous
97
Mouse IgG1
IF-IC
1:200
Species cross-reactivity is determined by western blot.
Applications Key: W=Western Blotting, IF-IC=Immunofluorescence (Immunocytochemistry),
Specificity / Sensitivity
Golgin-97 (CDF4) Mouse mAb recognizes endogenous levels of total golgin-97 protein.
Source / Purification
Monoclonal antibody is produced by immunizing animals with recombinant human Golgin-97 protein.
Western Blotting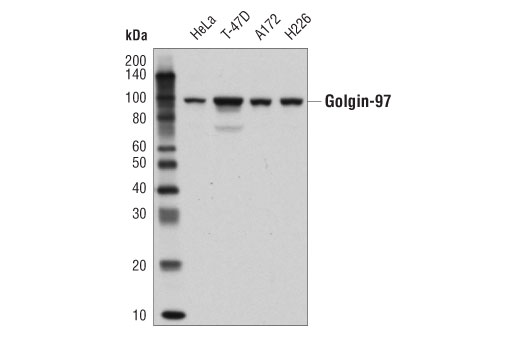 Western blot analysis of extracts from various cell lines using Golgin-97 (CDF4) mouse mAb.
Background
The Golgi-associated protein golgin A1 (GOLGA1, golgin-97) was first isolated as a Golgi complex autoantigen associated with the autoimmune disorder Sjogren's syndrome (1). The golgin-97 protein contains a carboxy-terminal GRIP domain and is a commonly used trans-Golgi network (TGN) marker. All four known mammalian GRIP domain-containing proteins (golgin-97, golgin-245, GCC88 and GCC185) are found in the TGN, share extensive alpha-helical structure, and form homodimers (2). While all four golgin proteins localize to the TGN, they exhibit different membrane-binding abilities and are found in distinct TGN regions (3). Golgin-97 and golgin-245 are targeted to the trans-Golgi network through an interaction between their GRIP domains and the Arl1 protein switch II region (4). Overexpression studies and siRNA assays with GRIP domain-containing proteins suggest that these proteins help to maintain trans-Golgi network integrity and function by controlling localization of TGN resident proteins (5). By using a Shiga toxin B fragment (STxB)-based in vitro transport assay and an E-cadherin transport model system, golgin-97 and its effector Arl1-GTP were shown to play a role in trans-Golgi endosomal trafficking (6,7). Research studies also suggest that golgin-97 may play a role in poxvirus morphogenesis and maturation (8,9).
Application References
Have you published research involving the use of our products? If so we'd love to hear about it. Please let us know!
Protocols
97537 :
Companion Products
---
For Research Use Only. Not For Use In Diagnostic Procedures.
DRAQ5 is a registered trademark of Biostatus Limited.
DyLight is a trademark of Thermo Fisher Scientific, Inc. and its subsidiaries.
Cell Signaling Technology is a trademark of Cell Signaling Technology, Inc.
Tween is a registered trademark of ICI Americas, Inc.
Cell Signaling Technology® is a trademark of Cell Signaling Technology, Inc.
用户评论 --- 共 0 条
该产品暂无评论!