Product Pathways - Cell Cycle / Checkpoint
RIF1 (D2F2M) Rabbit mAb #95558
PhosphoSitePlus ® protein, site, and accession data: RIF1
Applications
Dilution
Species-Reactivity
Sensitivity
MW (kDa)
Isotype
W
1:1000
Human,Monkey,
Endogenous
274
Rabbit IgG
IP
1:50
IF-IC
1:1000
Species cross-reactivity is determined by western blot.
Applications Key: W=Western Blotting, IP=Immunoprecipitation, IF-IC=Immunofluorescence (Immunocytochemistry),
Specificity / Sensitivity
RIF1 (D2F2M) Rabbit mAb recognizes endogenous levels of total RIF1 protein.
Source / Purification
Monoclonal antibody is produced by immunizing animals with a synthetic peptide corresponding to residues surrounding Leu2110 of human RIF1 protein.
IF-IC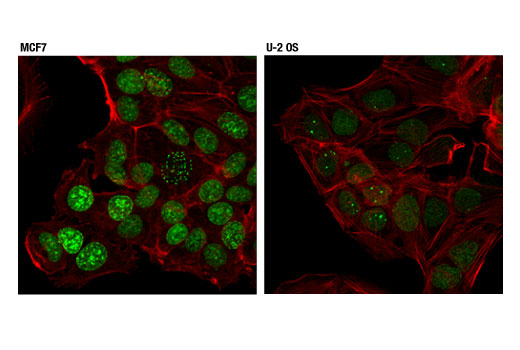 Confocal immunofluorescent analysis of MCF7 (positive; left) and U-2 OS (lower expression; right) cells using RIF1 (D2F2M) Rabbit mAb (green). Actin filaments were labeled with DyLight™ 554 Phalloidin #13054 (red).
Background
The Rap1 interacting factor 1 (RIF1) was originally identified as a regulator of telomere homeostasis in yeast and mammalian cells (1). Research studies show that RIF1 regulates the timing of eukaryotic DNA replication origin firing through its affect on chromatin architecture (2-4). Additional studies show that RIF1 is essential for regulating the repair of DNA double strand breaks (DSBs). RIF1 is recruited to sites of DSBs by 53BP1 in response to DNA damage, and suppresses 5' end resection to favor the non-homologous end joining (NHEJ) pathway over homologous recombination (HR) repair (5-9). Oct4 and Smad3 modulate Rif1 expression in mouse embryonic stem cells; Rif1 may regulate embryonic stem cell stability during cell proliferation (10).
Application References
Have you published research involving the use of our products? If so we'd love to hear about it. Please let us know!
Protocols
---
For Research Use Only. Not For Use In Diagnostic Procedures.
DyLight is a trademark of Thermo Fisher Scientific, Inc. and its subsidiaries.
Cell Signaling Technology is a trademark of Cell Signaling Technology, Inc.
XP is a registered trademark of Cell Signaling Technology, Inc.
Tween is a registered trademark of ICI Americas, Inc.
Cell Signaling Technology® is a trademark of Cell Signaling Technology, Inc.
用户评论 --- 共 0 条
该产品暂无评论!