Product Pathways - Screening Technologies
PTMScan® Malonyl-Lysine [Mal-K] Kit #93872
lysine malonyl malonylation motif
PhosphoSitePlus ® protein, site, and accession data: MALONYL
REACTIVITY

Homology
Species predicted to react based on 100% sequence homology: All Species Expected,
Description
PTMScan® Technology employs a proprietary methodology from Cell Signaling Technology (CST) for peptide enrichment by immunoprecipitation using a specific bead-conjugated antibody in conjunction with liquid chromatography (LC) tandem mass spectrometry (MS/MS) for quantitative profiling of post-translational modification (PTM) sites in cellular proteins. These include phosphorylation (PhosphoScan®), ubiquitination (UbiScan®), acetylation (AcetylScan®), and methylation (MethylScan®), among others. PTMScan® Technology enables researchers to isolate, identify, and quantitate large numbers of post-translationally modified cellular peptides with a high degree of specificity and sensitivity, providing a global overview of PTMs in cell and tissue samples without preconceived biases about where these modified sites occur. For more information on PTMScan® Proteomics Services, please visit www.cellsignal.com/services/index.html.
Chart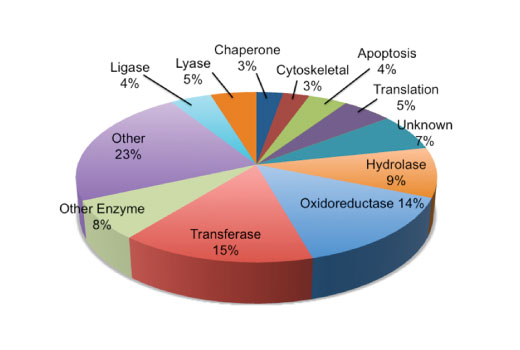 The chart shows the relative category distribution of proteins with malonylated lysine residues identified from peptides generated from a PTMScan® LC-MS/MS experiment of mouse liver tissue using PTMScan® Malonyl-Lysine [Mal-K] Immunoaffinity Beads.
Motif Logo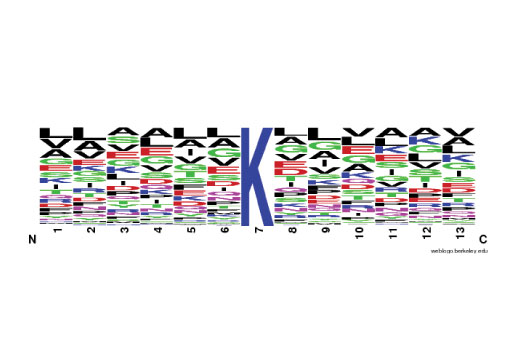 The Motif Logo was generated from a PTMScan® LC-MS/MS experiment using 779 nonredundant tryptic mouse liver peptides immunoprecipitated with PTMScan® Malonyl-Lysine [Mal-K] Immunoaffinity Beads. The logo represents the relative frequency of amino acids in each position surrounding the central malonylated lysine residue.
Directions for Use
Cells are lysed in a urea-containing buffer, cellular proteins are digested by proteases, and the resulting peptides are purified by reversed-phase solid-phase extraction. Peptides are then subjected to immunoaffinity purification using a PTMScan® Motif Antibody conjugated to protein A agarose beads. Unbound peptides are removed through washing, and the captured PTM-containing peptides are eluted with dilute acid. Reversed-phase purification is performed on microtips to desalt and separate peptides from antibody prior to concentrating the enriched peptides for LC-MS/MS analysis. CST recommends the use of PTMScan® IAP Buffer #9993 included in the kit. An alternate PTMScan® IAP Buffer Plus Detergent #9992, which may reduce nonspecific interactions, is available separately. A detailed protocol and Limited Use License allowing the use of the patented PTMScan® method are included with the kit.
Background
Lysine is subject to a wide array of regulatory post-translational modifications due to its positively charged ε-amino group side chain. The most prevalent of these are ubiquitination and acetylation, which are highly conserved among prokaryotes and eukaryotes (1,2). Acyl group transfer from the metabolic intermediates acetyl-, succinyl-, malonyl-, glutaryl-, butyryl-, propionyl-, and crotonyl-CoA all neutralize lysine's positive charge and confer structural alterations affecting substrate protein function. Lysine acetylation is catalyzed by histone acetyltransferases, HATs, using acetyl-CoA as a cofactor (3,4). Deacylation is mediated by histone deacetylases, HDACs 1-11, and NAD-dependent Sirtuins 1-7. Some sirtuins have little to no deacetylase activity, suggesting that they are better suited for other acyl lysine substrates (5).
Sirt 5 is a predominantly mitochondrial desuccinylase and demalonylase (5,6). In the absence of a known malonyltransferase, nonenzymatic protein malonylation is likely driven by the concentration of Malonyl-CoA and intracellular pH and is subject to metabolic fluctuations (7). Malonylation is especially prevalent among mitochondrial metabolic proteins. In type II diabetes mouse models, notably elevated malonylation can be detected mainly, but not exclusively, on proteins of glucose and fatty acid metabolism (8). Yeast histone H3K56 malonylation suggests poor DNA binding efficiency and may lead to reduced cell viability (9).
Application References
Have you published research involving the use of our products? If so we'd love to hear about it. Please let us know!
Companion Products
---
For Research Use Only. Not For Use In Diagnostic Procedures.
Use of Cell Signaling Technology (CST) Motif Antibodies within certain methods (e.g., U.S. Patents No. 7,198,896 and 7,300,753) may require a license from CST. For information regarding academic licensing terms please have your technology transfer office contact CST Legal Department at CST_ip@cellsignal.com. For information regarding commercial licensing terms please contact CST Pharma Services Department at ptmscan@cellsignal.com.
Cell Signaling Technology is a trademark of Cell Signaling Technology, Inc.
PTMScan is a trademark of Cell Signaling Technology, Inc.
AcetylScan is a trademark of Cell Signaling Technology, Inc.
PhosphoScan is a trademark of Cell Signaling Technology, Inc.
UbiScan is a trademark of Cell Signaling Technology, Inc.
MethylScan is a trademark of Cell Signaling Technology, Inc.
Cell Signaling Technology® is a trademark of Cell Signaling Technology, Inc.
用户评论 --- 共 0 条
该产品暂无评论!