Product Pathways - NF-kB Signaling
IκB-ζ Antibody (Mouse Specific) #93726
PhosphoSitePlus ® protein, site, and accession data: IKB-ZETA
| Applications | Dilution | Species-Reactivity | Sensitivity | MW (kDa) | Isotype |
| --- | --- | --- | --- | --- | --- |
| W | 1:1000 | Mouse, | Endogenous | 75, 85 | Rabbit |
Species cross-reactivity is determined by western blot.
Applications Key: W=Western Blotting,
Specificity / Sensitivity
IκB-ζ Antibody (Mouse Specific) recognizes endogenous levels of total mouse IκB-ζ protein.
Source / Purification
Polyclonal antibodies are produced by immunizing animals with a synthetic peptide corresponding to residues surrounding Gly108 of mouse IκB-ζ protein. Antibodies are purified by protein A and peptide affinity chromatography.
Western Blotting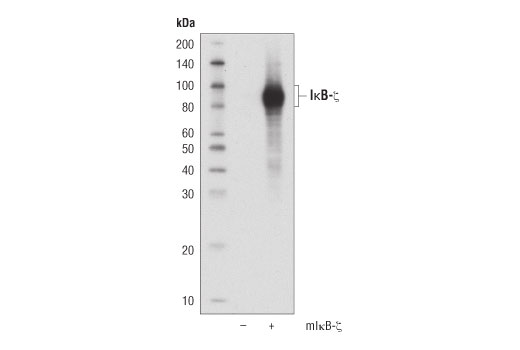 Western blot analysis of extracts from 293T cells, mock transfected (-) or transfected with a construct expressing full-length mouse IκB-ζ (mIκB-ζ; +) using IκB-ζ Antibody (Mouse Specific).
Background
The NF-κB/Rel transcription factors are present in the cytosol in an inactive state complexed with the inhibitory IκB proteins (1-3). Activation occurs via phosphorylation of IκBα at Ser32 and Ser36 followed by proteasome-mediated degradation that results in the release and nuclear translocation of active NF-κB (3-7). IκBα phosphorylation and resulting Rel-dependent transcription are activated by a highly diverse group of extracellular signals including inflammatory cytokines, growth factors, and chemokines. Kinases that phosphorylate IκB at these activating sites have been identified (8).
IκB-ζ (MAIL, INAP) is a unique IκB family member homologous to Bcl-3 and induced by IL-1 and Toll-like receptor (TLR) ligands (9-11). Like other family members, it contains carboxyl terminal ankyrin-repeats responsible for interaction with NF-κB, particularly p50. Unlike classical IκB family members (α, β, ε) which inhibit NF-κB translocation and are rapidly degraded upon cytokine treatment, IκB-ζ is cytokine-inducible and localized to the nucleus where it regulates NF-κB DNA binding and transactivation (12-14). Induction of IκB-ζ is required for TLR/IL-1 induction of a subset of NF-κB target genes, including IL-6 (15). However, the IκB-ζ can also inhibit transactivation of other targets, such as TNF-α (14,15).
Application References
Have you published research involving the use of our products? If so we'd love to hear about it. Please let us know!
Protocols
93726 :
Companion Products
---
For Research Use Only. Not For Use In Diagnostic Procedures.
Cell Signaling Technology is a trademark of Cell Signaling Technology, Inc.
Tween is a registered trademark of ICI Americas, Inc.
Cell Signaling Technology® is a trademark of Cell Signaling Technology, Inc.
用户评论 --- 共 0 条
该产品暂无评论!