Product Pathways - Innate Immunity
TRIM21 (D1O1D) Rabbit mAb #92043
PhosphoSitePlus ® protein, site, and accession data: TRIM21
Applications
Dilution
Species-Reactivity
Sensitivity
MW (kDa)
Isotype
W
1:1000
Human,
Endogenous
50
Rabbit IgG
IP
1:50
Species cross-reactivity is determined by western blot.
Applications Key: W=Western Blotting, IP=Immunoprecipitation,
Specificity / Sensitivity
TRIM21 (D1O1D) Rabbit mAb recognizes endogenous levels of total TRIM21 protein.
Source / Purification
Monoclonal antibody is produced by immunizing animals with a synthetic peptide corresponding to residues surrounding Val309 of human TRIM21 protein.
Western Blotting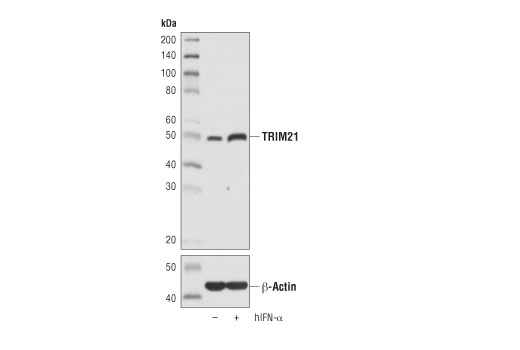 Western blot analysis of extracts from HeLa cells, untreated (-) or treated with Human Interferon-α1 (hIFN-α1) #8927 (10 ng/ml, 16 hr; +), using TRIM21 (D1O1D) Rabbit mAb (upper) and β-Actin (D6A8) Rabbit mAb #8457 (lower).
Background
Tripartite motif-containing protein 21 (TRIM21) is a cytosolic antiviral protein that is induced by interferons and acts as a cytosolic IgG receptor (1,2).  TRIM21 is an activator of the innate immune system and targets antibody bound virions to the proteasome via its E3 ubiquitin ligase activity, leading to degradation of the virions in the cytosol (3,4). Interestingly, TRIM21 has also been shown to negatively regulate pathogen-induced interferon production through the polyubiquitin-mediated degradation of multiple targets including IRF3, IRF7, and DDX41 (5,6,7).
Application References
Have you published research involving the use of our products? If so we'd love to hear about it. Please let us know!
Protocols
Companion Products
---
For Research Use Only. Not For Use In Diagnostic Procedures.
Cell Signaling Technology is a trademark of Cell Signaling Technology, Inc.
Tween is a registered trademark of ICI Americas, Inc.
Cell Signaling Technology® is a trademark of Cell Signaling Technology, Inc.
用户评论 --- 共 0 条
该产品暂无评论!