Product Pathways - Metabolism
MMS19 (D5J8J) Rabbit mAb #90637
PhosphoSitePlus ® protein, site, and accession data: MMS19
Applications
Dilution
Species-Reactivity
Sensitivity
MW (kDa)
Isotype
W
1:1000
Human,Mouse,Rat,
Endogenous
100
Rabbit IgG
IP
1:200
Species cross-reactivity is determined by western blot.
Applications Key: W=Western Blotting, IP=Immunoprecipitation,
Specificity / Sensitivity
MMS19 (D5J8J) Rabbit mAb recognizes endogenous levels of total MMS19 protein.
Source / Purification
Monoclonal antibody is produced by immunizing animals with a synthetic peptide corresponding to residues surrounding Leu892 of human MMS19 protein.
Western Blotting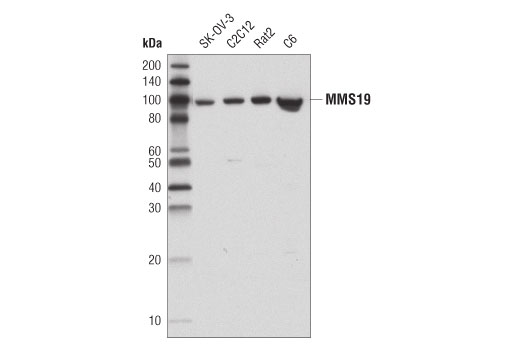 Western blot analysis of extracts from various cell lines using MMS19 (D5J8J) Rabbit mAb.
Background
Iron-sulfur (Fe-S) clusters (ISC) are cofactors for many proteins that display a wide range of biological functions, such as DNA maintenance, transcription, translation, cellular metabolism, electron transport, and oxidative phosphorylation (1). While structurally simple, the synthesis and insertion of ISC into Fe-S proteins are complex processes that involve many different proteins. MMS19 (methyl-methanesulfonate sensitivity 19) is a key component of the cytosolic Fe-S protein assembly complex, acting as an adaptor for a subset of Fe-S proteins including XPD and FANCJ, therefore playing an important role in DNA repair and transcription (2-4). MMS19 may also function as a coactivator for the estrogen receptor (5). In addition it has been reported that MMS19 is in a complex that is localized to the mitotic spindle and is required for proper chromosome segregation during mitosis (6).
Application References
Have you published research involving the use of our products? If so we'd love to hear about it. Please let us know!
Protocols
Companion Products
---
For Research Use Only. Not For Use In Diagnostic Procedures.
Cell Signaling Technology is a trademark of Cell Signaling Technology, Inc.
Tween is a registered trademark of ICI Americas, Inc.
Cell Signaling Technology® is a trademark of Cell Signaling Technology, Inc.
用户评论 --- 共 0 条
该产品暂无评论!