Product Pathways - Jak/Stat Pathway
Phospho-Stat2 (Tyr690) (D3P2P) Rabbit mAb #88410
PhosphoSitePlus ® protein, site, and accession data: STAT2
Applications
Dilution
Species-Reactivity
Sensitivity
MW (kDa)
Isotype
W
1:1000
Human,Rat,
Endogenous
97, 113
Rabbit IgG
F
1:200
IF-IC
1:100
Species cross-reactivity is determined by western blot.
Applications Key: W=Western Blotting, F=Flow Cytometry, IF-IC=Immunofluorescence (Immunocytochemistry),
Specificity / Sensitivity
Phospho-Stat2 (D3P2P) Rabbit mAb recognizes endogenous levels of Stat2 protein only when phosphorylated at Tyr690.
Source / Purification
Monoclonal antibody is produced by immunizing animals with a synthetic phospho-peptide corresponding to residues surrounding Tyr690 of human Stat2 protein.
Flow Cytometry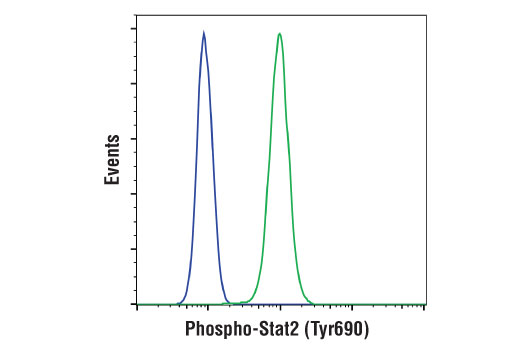 Flow cytometric analysis of U266 cells, untreated (blue) or treated with IFN-α (green) using Phospho-Stat2 (Tyr690) (D3P2P) Rabbit mAb. Anti-rabbit IgG (H+L), F(ab')2 fragment (Alexa Fluor 488 Conjugate) #4412 was used as a secondary antibody.
Background
Stat2 (113-kDa), originally purified from the nuclei of alpha-interferon-treated cells, is critical to the transcriptional responses induced by type I interferons, IFN-alpha/beta (1,2). Knockout mice with a targeted disruption of Stat2 have higher susceptibility to viral infection and altered responses to type I interferons (3). Stat2 is rapidly activated by phosphorylation at Tyr690 in response to stimulation by IFN-alpha/beta via associations with receptor-bound Jak kinases (4). Unlike other Stat proteins, Stat2 does not form homodimers. Instead, activated Stat2 forms a heterodimer with Stat1 and translocates to the nucleus. There, it associates with the DNA-binding protein p48 and forms the transcriptional activator complex, interferon-stimulated gene factor 3 (ISGF3), promoting transcription from the ISRE (5).
Application References
Have you published research involving the use of our products? If so we'd love to hear about it. Please let us know!
Protocols
88410 :
Companion Products
---
For Research Use Only. Not For Use In Diagnostic Procedures.
The Alexa Fluor dye antibody conjugates in this product are sold under license from Life Technologies Corporation for research use only, except for use in combination with DNA microarrays. The Alexa Fluor® dyes (except for Alexa Fluor® 430 dye) are covered by pending and issued patents. Alexa Fluor® is a registered trademark of Molecular Probes, Inc.
Cell Signaling Technology is a trademark of Cell Signaling Technology, Inc.
Tween is a registered trademark of ICI Americas, Inc.
Cell Signaling Technology® is a trademark of Cell Signaling Technology, Inc.
用户评论 --- 共 0 条
该产品暂无评论!