Product Pathways - Protein Stability
VCIP135 Antibody #88153
DUBA3 DUBs VCIP1 VCIP135 VCPIP1
PhosphoSitePlus ® protein, site, and accession data: VCIP135
Applications
Dilution
Species-Reactivity
Sensitivity
MW (kDa)
Isotype
W
1:1000
Human,Monkey,
Endogenous
140
Rabbit
IP
1:100
Species cross-reactivity is determined by western blot.
Applications Key: W=Western Blotting, IP=Immunoprecipitation,
Specificity / Sensitivity
VCIP135 Antibody recognizes endogenous levels of total VCIP135 protein.
Source / Purification
Polyclonal antibodies are produced by immunizing animals with a synthetic peptide corresponding to residues surrounding Ala1035 of human VCIP135 protein. Antibodies are purified by protein A and peptide affinity chromatography.
Western Blotting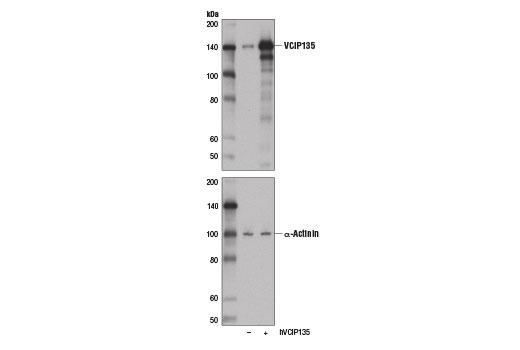 Western blot analysis of extracts from 293T cells, mock transfected (-) or transfected with a construct expressing full-length human VCIP135 protein (hVCIP135; +), using VCIP135 Antibody (upper) and α-Actinin (D6F6) XP® Rabbit mAb #6487 (lower).
Background
Protein ubiquitination and deubiquitination are reversible processes catalyzed by ubiquitinating enzymes and deubiquitinating enzymes, respectively (1,2). Deubiquitinating enzymes (DUBs) are categorized into five subfamilies based on catalytic domain structure: USP, OTU, MJD, and JAMM. The valosin-containing protein p97/p47 complex-interacting protein 1 (VCIP135, VCPIP1) is a deubiquitinating enzyme that belongs to the A20-like subfamily of ovarian tumor (OTU) DUBs (3). VCIP135 serves as a cofactor for the p97/p47 complex in regulating Golgi membrane fusion and reassembly at the end of mitosis (4-6). Research studies suggest that the phosphorylation status of VCIP135 provides a mechanism to fine-tune the kinetics of Golgi disassembly and reassembly during the cell cycle. For example, these studies demonstrate that VCIP135 undergoes phosphorylation early in mitosis, which blocks its association with the Golgi membrane and p97/VCP, thus inhibiting p97/VCP-mediated Golgi membrane fusion (7,8).
Application References
Have you published research involving the use of our products? If so we'd love to hear about it. Please let us know!
Protocols
Companion Products
---
For Research Use Only. Not For Use In Diagnostic Procedures.
Cell Signaling Technology is a trademark of Cell Signaling Technology, Inc.
XP is a registered trademark of Cell Signaling Technology, Inc.
Tween is a registered trademark of ICI Americas, Inc.
Cell Signaling Technology® is a trademark of Cell Signaling Technology, Inc.
用户评论 --- 共 0 条
该产品暂无评论!