Product Pathways - Cytoskeletal Signaling
Filamin C (D1K3J) Rabbit mAb #86972
PhosphoSitePlus ® protein, site, and accession data: FILAMIN C
Applications
Dilution
Species-Reactivity
Sensitivity
MW (kDa)
Isotype
W
1:1000
Human,
Endogenous
290
Rabbit IgG
IP
1:50
Species cross-reactivity is determined by western blot.
Applications Key: W=Western Blotting, IP=Immunoprecipitation,
Specificity / Sensitivity
Filamin C (D1K3J) Rabbit mAb recognizes endogenous levels of total filamin C protein. Based on the sequence of the immunogenic peptide, this antibody is not expected to recognize other filamin family members.
Source / Purification
Monoclonal antibody is produced by immunizing animals with a synthetic peptide corresponding to residues surrounding Glu1743 of human filamin C protein.
Western Blotting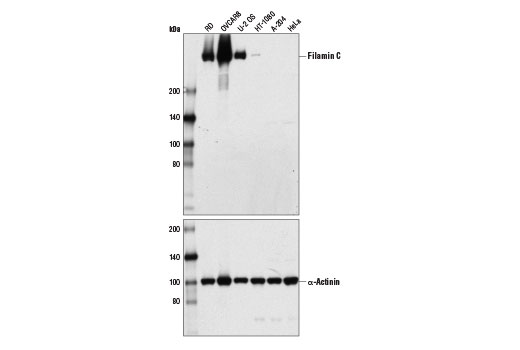 Western blot analysis of extracts from various cell lines using Filamin C (D1K3J) Rabbit mAb (upper) and α-Actinin (D6F6) XP® Rabbit mAb #6487 (lower).
Background
Filamins are a family of dimeric actin binding proteins that function as structural components of cell adhesion sites. They also serve as a scaffold for subcellular targeting of signaling molecules (1). The actin binding domain (α-actinin domain) located at the amino terminus is followed by as many as 24 tandem repeats of about 96 residues and the dimerization domain is located at the carboxy terminus. In addition to actin filaments, filamins associate with other structural and signaling molecules such as β-integrins, Rho/Rac/Cdc42, PKC and the insulin receptor, primarily through the carboxy-terminal dimerization domain (1-3). Filamin A, the most abundant, and filamin B are widely expressed isoforms, while filamin C is predominantly expressed in muscle (1). Filamin A is phosphorylated by PAK1 at Ser2152, which is required for PAK1-mediated actin cytoskeleton reorganization (4).
Application References
Have you published research involving the use of our products? If so we'd love to hear about it. Please let us know!
Protocols
---
For Research Use Only. Not For Use In Diagnostic Procedures.
Cell Signaling Technology is a trademark of Cell Signaling Technology, Inc.
XP is a registered trademark of Cell Signaling Technology, Inc.
Tween is a registered trademark of ICI Americas, Inc.
Cell Signaling Technology® is a trademark of Cell Signaling Technology, Inc.
用户评论 --- 共 0 条
该产品暂无评论!