Product Pathways - Cytoskeletal Signaling
Nischarin (D6T4X) Rabbit mAb #85124
PhosphoSitePlus ® protein, site, and accession data: NISCH
| Applications | Dilution | Species-Reactivity | Sensitivity | MW (kDa) | Isotype |
| --- | --- | --- | --- | --- | --- |
| W | 1:1000 | Human,Mouse, | Endogenous | 200 | Rabbit IgG |
Species cross-reactivity is determined by western blot.
Applications Key: W=Western Blotting,
Specificity / Sensitivity
Nischarin (D6T4X) Rabbit mAb recognizes endogenous levels of total nischarin protein. The antibody detects a 60 kDa background band of unknown identity by western blot.
Source / Purification
Monoclonal antibody is produced by immunizing animals with a synthetic peptide corresponding to residues near the amino terminus of human nischarin protein.
Western Blotting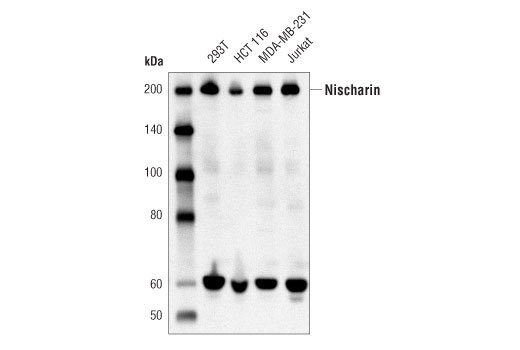 Western blot analysis of extracts from various cell lines using Nischarin (D6T4X) rabbit mAb.
Background
Nischarin (also known as imidazoline receptor antisera-selected protein, IRAS) was first identified through its association with the cytoplasmic domain of integrin α5, and shown to regulate cell migration and cystoskeletal organization (1).
Nischarin regulates Rac-1 signaling (2), as well as the p21-activated kinase (PAK) (3) and cofilin/LIMK pathways (4). Nischarin also interacts with LKB1, regulating the migration and metastatic behavior of breast epithelial cells (5). In addition, nischarin regulates neuronal migration in rat brain (6).
Research studies have implicated nischarin in the regulation of invasion and metastasis of breast cancer (7,8). Researchers have shown that nischarin is frequently downregulated in ovarian cancer, and regulates invasion through focal adhesion kinase (FAK) signaling (9).
Application References
Have you published research involving the use of our products? If so we'd love to hear about it. Please let us know!
Protocols
85124 :
Companion Products
---
For Research Use Only. Not For Use In Diagnostic Procedures.
Cell Signaling Technology is a trademark of Cell Signaling Technology, Inc.
Tween is a registered trademark of ICI Americas, Inc.
Cell Signaling Technology® is a trademark of Cell Signaling Technology, Inc.
用户评论 --- 共 0 条
该产品暂无评论!