Product Pathways - Stem Cell and Lineage Markers
RUNX2 (D1H7) Rabbit mAb #8486
PhosphoSitePlus ® protein, site, and accession data: AML3
Applications
Dilution
Species-Reactivity
Sensitivity
MW (kDa)
Isotype
W
1:1000
Human,Mouse,Rat,Monkey,
Endogenous
55-62
Rabbit IgG
IP
1:50
ChIP
1:100
Species cross-reactivity is determined by western blot.
Applications Key: W=Western Blotting, IP=Immunoprecipitation, ChIP=Chromatin IP,
Specificity / Sensitivity
RUNX2 (D1H7) Rabbit mAb recognizes endogenous levels of total RUNX2 protein.
Source / Purification
Monoclonal antibody is produced by immunizing animals with a synthetic peptide corresponding to residues surrounding Arg267 of human RUNX2 protein.
Western Blotting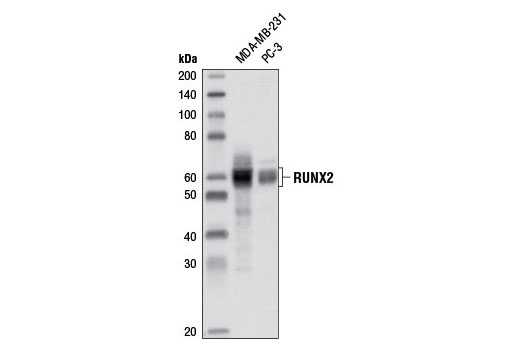 Western blot analysis of extracts from MDA-MB-231 and PC-3 cells using RUNX2 (D1H7) Rabbit mAb.
Chromatin IP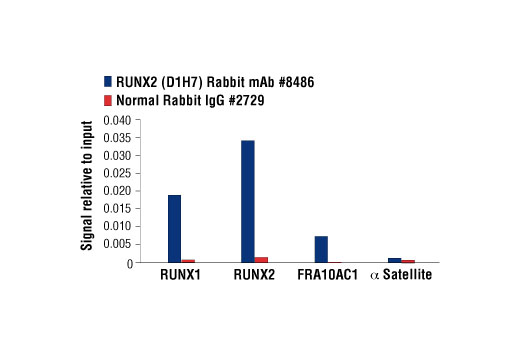 Chromatin immunoprecipitations were performed with cross-linked chromatin from 4 x 106 Saos-2 cells and either 5 μl of RUNX2 (D1H7) Rabbit mAb or 2 μl of Normal Rabbit IgG #2729 using SimpleChIP® Enzymatic Chromatin IP Kit (Magnetic Beads) #9003. The enriched DNA was quantified by real-time PCR using human RUNX1 Intron 1 primers, SimpleChIP® Human RUNX2 Promoter Primers #12376, human FRA10AC1 intron 1 primers, and SimpleChIP® Human α Satellite Repeat Primers #4486. The amount of immunoprecipitated DNA in each sample is represented as signal relative to the total amount of input chromatin, which is equivalent to one.
Background
RUNX2 is a member of the RUNX family of transcription factors. It is involved in osteoblast differentiation and skeletal morphogenesis. RUNX2 regulates the transcription of various genes including osteopontin, bone sialoprotein, and osteocalcin via binding to the core site of the enhancers or promoters (1-3). RUNX2 is crucial for the maturation of osteoblasts and both intramembranous and endochondral ossification. Mutations in RUNX2 have been associated with the bone development disorder cleidocranial dysplasia (CCD) (4-6). RUNX2 is also abnormally expressed in various human cancers including prostate cancer and breast cancer. It plays an important role in migration, invasion, and bone metastasis of prostate and breast cancer cells (7-10).
Application References
Have you published research involving the use of our products? If so we'd love to hear about it. Please let us know!
Protocols
Companion Products
---
For Research Use Only. Not For Use In Diagnostic Procedures.
Cell Signaling Technology is a trademark of Cell Signaling Technology, Inc.
Cell Signaling Technology® is a trademark of Cell Signaling Technology, Inc.
用户评论 --- 共 0 条
该产品暂无评论!