Product Pathways - Transcription Factors
Sox17 (D1T8M) Rabbit mAb #81778
PhosphoSitePlus ® protein, site, and accession data: SOX17
Applications
Dilution
Species-Reactivity
Sensitivity
MW (kDa)
Isotype
W
1:1000
Human,
Endogenous
55
Rabbit IgG
IF-IC
1:3200
Species cross-reactivity is determined by western blot.
Applications Key: W=Western Blotting, IF-IC=Immunofluorescence (Immunocytochemistry),
Specificity / Sensitivity
Sox17 (D1T8M) Rabbit mAb recognizes endogenous levels of total Sox17 protein.
Source / Purification
Monoclonal antibody is produced by immunizing animals with a synthetic peptide corresponding to residues surrounding Pro272 of human Sox17 protein.
IF-IC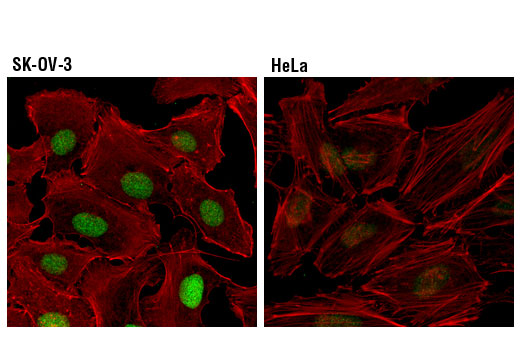 Confocal immunofluorescent analysis of SK-OV-3 (left) and HeLa (right) cells using Sox17 (D1T8M) Rabbit mAb (green). Actin filaments were labeled with DyLight™ 554 Phalloidin #13054 (red).
Background
SRY-related high mobility group box (SOX) proteins comprise a large family of widely conserved transcription factors that play important roles in development. SOX proteins possess a high mobility group (HMG) motif that binds the DNA minor groove. SOX proteins do not directly mediate transcription, but require binding partners that regulate their ability to mediate transcription of target genes that control cell fate determination and development (reviewed in 1).
Transcription factor Sox17 is a Sox family protein with an established role in endoderm specification during development (2). In addition, Sox17 plays essential roles in the maintenance of the hematopoietic stem cell pool (3) and for vascular morphogenesis during development (4,5). Sox17 negatively regulates oligodendrocyte precursor differentiation by antagonizing β-catenin signaling (6). Mutation in the corresponding Sox17 gene in humans is associated with a form of vesicoureteral reflux, a disorder characterized by congenital kidney and urinary tract defects (7).
Application References
Have you published research involving the use of our products? If so we'd love to hear about it. Please let us know!
Protocols
81778 :
Companion Products
---
For Research Use Only. Not For Use In Diagnostic Procedures.
DyLight is a trademark of Thermo Fisher Scientific, Inc. and its subsidiaries.
Cell Signaling Technology is a trademark of Cell Signaling Technology, Inc.
XP is a registered trademark of Cell Signaling Technology, Inc.
Tween is a registered trademark of ICI Americas, Inc.
Cell Signaling Technology® is a trademark of Cell Signaling Technology, Inc.
用户评论 --- 共 0 条
该产品暂无评论!