Product Pathways - Cell Cycle / Checkpoint
Cyclin F (D9K2U) Rabbit mAb #81045
PhosphoSitePlus ® protein, site, and accession data: CCNF
| Applications | Dilution | Species-Reactivity | Sensitivity | MW (kDa) | Isotype |
| --- | --- | --- | --- | --- | --- |
| W | 1:1000 | Human, | Endogenous | 90 | Rabbit IgG |
Species cross-reactivity is determined by western blot.
Applications Key: W=Western Blotting,
Specificity / Sensitivity
Cyclin F (D9K2U) Rabbit mAb recognizes endogenous levels of total Cyclin F protein. This antibody recognizes an unidentified protein of 80 kDa by western blot.
Source / Purification
Monoclonal antibody is produced by immunizing animals with a synthetic peptide corresponding to residues surrounding Pro665 of human Cyclin F protein.
Western Blotting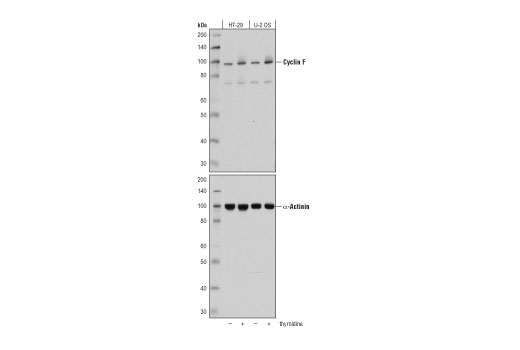 Western blot analysis of extracts from HT-29 and U-2 OS cells, untreated (-) or synchronized by double thymidine block followed by an eight hour release into complete medium (+), using Cyclin F (D9K2U) Rabbit mAb (upper) or α-Actinin (D6F6) Rabbit mab #6487 (lower).
Background
Cyclin F is the founding member of the F-box protein family, present in all eukaryotic cells. F-box proteins are components of the Skp1-Cullin-F-box (SCF) ubiquitin ligase complex. The substrate specificity of the SCF complex is determined by the interchangeable F-box proteins, which act as adaptors by associating with phosphorylated substrate proteins and recruiting them to the SCF core (1).
Cyclin F contains a cyclin box domain in addition to an F-box domain, but does not regulate the activity of cyclin dependent kinases. Cyclin F expression does oscillate during the cell cycle, however, peaking in G2 phase (2).
Cyclin F interacts with the centrosomal protein CP110, which plays critical roles centriole duplication and spindle formation. Cyclin F-mediated degradation of CP110 in G2 phase is required for normal progression into mitosis (3). In response to ionizing radiation, which causes DNA double strand breaks, Cyclin F interacts with B-Myb, preventing cyclin A-dependent phosphorylation of B-Myb, and delaying progression into mitosis. This G2 phase arrest allows the cell to respond to the DNA damage-induced G2/M phase checkpoint (4). Cyclin F also controls the stability of the ribonucleotide reductase M2 subunit, RRM2, which functions in maintaining the levels of dNTPs available in the cell for DNA synthesis and repair, in response to genotoxic stress (5). Researchers have implicated cyclin F as a prognostic marker in hepatocellular carcinoma (HCC) (6).
Application References
Have you published research involving the use of our products? If so we'd love to hear about it. Please let us know!
Protocols
81045 :
Companion Products
---
For Research Use Only. Not For Use In Diagnostic Procedures.
Cell Signaling Technology is a trademark of Cell Signaling Technology, Inc.
Tween is a registered trademark of ICI Americas, Inc.
Cell Signaling Technology® is a trademark of Cell Signaling Technology, Inc.
用户评论 --- 共 0 条
该产品暂无评论!