Product Pathways - Neuroscience
GRK3 (D8G6V) Rabbit mAb #80362
PhosphoSitePlus ® protein, site, and accession data: GRK3
| Applications | Dilution | Species-Reactivity | Sensitivity | MW (kDa) | Isotype |
| --- | --- | --- | --- | --- | --- |
| W | 1:1000 | Human,Mouse, | Endogenous | 80 | Rabbit IgG |
Species cross-reactivity is determined by western blot.
Applications Key: W=Western Blotting,
Specificity / Sensitivity
GRK3 (D8G6V) Rabbit mAb recognizes endogenous levels of total GRK3 protein.
Source / Purification
Monoclonal antibody is produced by immunizing animals with a synthetic peptide corresponding to residues surrounding Lys454 of human GRK3 protein.
Western Blotting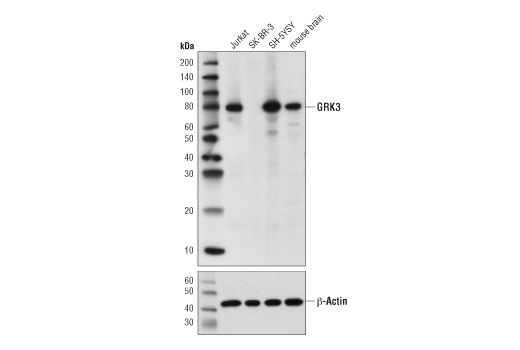 Western blot analysis of extracts from mouse brain and various cell lines using GRK3 (D8G6V) Rabbit mAb (upper) and β-Actin (D6A8) Rabbit mAb #8457 (lower).
Background
G-protein-coupled receptor kinase 3 (GRK3), also known as beta-adrenergic receptor kinase 2 (beta-ARK2), is a member of the GRK family, which phosphorylates the activated form of G-protein-coupled receptors (GPCRs) and initiates the desensitization process of GPCR (1). GRK3 has been implicated in the phosphorylation of GPCRs, enabling their interaction with beta-arrestin, and facilitating their signaling through ERK1/2 phosphorylation (2). More recently, GRK3 was found to play a critical role in tumor progression through stimulation of angiogenesis; furthermore, GRK3 was found to be overexpressed in human prostate cancer, in particular in metastatic tumors (3).
Application References
Have you published research involving the use of our products? If so we'd love to hear about it. Please let us know!
Protocols
80362 :
Companion Products
---
For Research Use Only. Not For Use In Diagnostic Procedures.
Cell Signaling Technology is a trademark of Cell Signaling Technology, Inc.
Cell Signaling Technology® is a trademark of Cell Signaling Technology, Inc.
用户评论 --- 共 0 条
该产品暂无评论!