Product Pathways - Neuroscience
SORL1 (D8D4G) Rabbit mAb #79322
PhosphoSitePlus ® protein, site, and accession data: SORL1
Applications
Dilution
Species-Reactivity
Sensitivity
MW (kDa)
Isotype
W
1:1000
Human,Mouse,
Endogenous
250
Rabbit IgG
IF-F
1:800
Species cross-reactivity is determined by western blot.
Applications Key: W=Western Blotting, IF-F=Immunofluorescence (Frozen),
Specificity / Sensitivity
SORL1 (D8D4G) Rabbit mAb recognizes endogenous levels of total SORL1 protein.
Source / Purification
Monoclonal antibody is produced by immunizing animals with a synthetic peptide corresponding to residues surrounding Glu267 of human SORL1 protein.
IF-F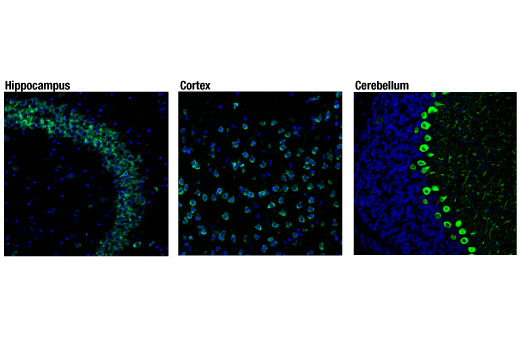 Confocal immunofluorescent analysis of mouse hippocampus (left), cortex (middle), or cerebellum (right) using SORL1 (D8D4G) Rabbit mAb (green). Blue pseudocolor = DRAQ5® #4084 (fluorescent DNA dye).
Background
SORL1, also called SorLA, is a 250 kDa type-1 membrane protein found in neurons of the central and peripheral nervous system (1). SORL1 is related to the yeast transporter Vps10p (2). While its exact function is unknown, because it shuttles between the Golgi apparatus and endolysosomal compartments, and given its structural similarity with Vps10p, it has been suggested that SORL1 acts in intracellular trafficking (3). Interestingly, SORL1 expression has been shown to be decreased in the brain of patients with Alzheimer's disease (4), and research studies have demonstrated a role for SORL1 as a neuronal sorting receptor that binds APP and regulates its trafficking and proteolytic processing, thus regulating the production of amyloid-beta peptides (5).
Application References
Have you published research involving the use of our products? If so we'd love to hear about it. Please let us know!
Protocols
79322 :
Companion Products
---
For Research Use Only. Not For Use In Diagnostic Procedures.
DRAQ5 is a registered trademark of Biostatus Limited.
Cell Signaling Technology is a trademark of Cell Signaling Technology, Inc.
Tween is a registered trademark of ICI Americas, Inc.
Cell Signaling Technology® is a trademark of Cell Signaling Technology, Inc.
用户评论 --- 共 0 条
该产品暂无评论!