Product Pathways - Cell Cycle / Checkpoint
WAPL (D9J1U) Rabbit mAb #77428
PhosphoSitePlus ® protein, site, and accession data: WAPL
| Applications | Dilution | Species-Reactivity | Sensitivity | MW (kDa) | Isotype |
| --- | --- | --- | --- | --- | --- |
| W | 1:1000 | Human,Mouse,Rat, | Endogenous | 160 | Rabbit IgG |
Species cross-reactivity is determined by western blot.
Applications Key: W=Western Blotting,
Specificity / Sensitivity
WAPL (D9J1U) Rabbit mAb recognizes endogenous levels of total WAPL protein.
Source / Purification
Monoclonal antibody is produced by immunizing animals with a synthetic peptide corresponding to residues near the amino terminus of human WAPL protein.
Western Blotting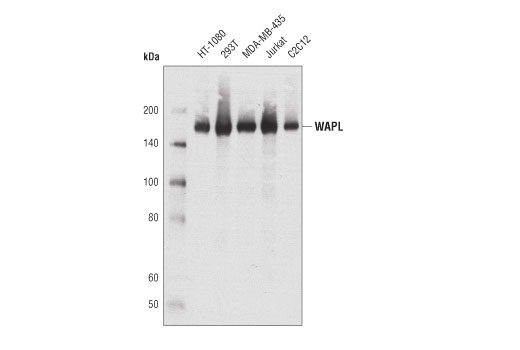 Western blot analysis of extracts from various cell lines using WAPL (D9J1U) Rabbit mAb.
Background
The cohesin protein complex consists of a heterodimer between SMC1 (SMC1A or B) and SMC3, bound by additional RAD21 and STAG proteins (STAG1, 2, or 3). These proteins form a ring-like structure that mediates the cohesion of two sister chromatids after DNA replication in S phase (1,2). 
WAPL, also wings apart-like or WAPAL, is a chromatin-associated protein that binds to the cohesin protein complex and regulates its function and its interaction with chromatin (3,4). WAPL, through its interaction with cohesin, is important in the regulation of chromosome structure, cell cycle progression and appropriate chromosome segregation (5,6). Depletion of WAPL leads to segregation errors and DNA damage, and in p53 deficient cells leads to aneuploidy (6).
Application References
Have you published research involving the use of our products? If so we'd love to hear about it. Please let us know!
Protocols
77428 :
Companion Products
---
For Research Use Only. Not For Use In Diagnostic Procedures.
Cell Signaling Technology is a trademark of Cell Signaling Technology, Inc.
Tween is a registered trademark of ICI Americas, Inc.
Cell Signaling Technology® is a trademark of Cell Signaling Technology, Inc.
用户评论 --- 共 0 条
该产品暂无评论!