Product Pathways - Cell Cycle / Checkpoint
cdc2 Antibody #77055
PhosphoSitePlus ® protein, site, and accession data: CDC2
Applications
Dilution
Species-Reactivity
Sensitivity
MW (kDa)
Isotype
W
1:1000
Human,Mouse,Rat,
Endogenous
34
Rabbit
IP
1:50
Species cross-reactivity is determined by western blot.
Applications Key: W=Western Blotting, IP=Immunoprecipitation,
Specificity / Sensitivity
cdc2 Antibody detects endogenous levels of total cdc2 protein.
Source / Purification
Polyclonal antibodies are produced by immunizing animals with a synthetic peptide corresponding to residues surrounding Asp289 of human cdc2. Antibodies are purified by protein A and peptide affinity chromatography.
Western Blotting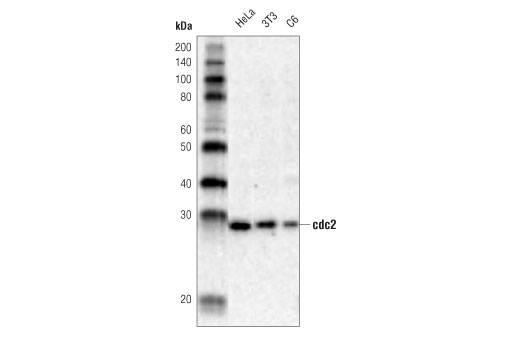 Western blot analysis of extracts from HeLa, 3T3, and C6 cells using cdc2 Antibody.
Background
The entry of eukaryotic cells into mitosis is regulated by cdc2 kinase activation, a process controlled at several steps including cyclin binding and phosphorylation of cdc2 at Thr161 (1). However, the critical regulatory step in activating cdc2 during progression into mitosis appears to be dephosphorylation of cdc2 at Thr14 and Tyr15 (2). Phosphorylation at Thr14 and Tyr15, resulting in inhibition of cdc2, can be carried out by Wee1 and Myt1 protein kinases (3,4). The cdc25 phosphatase may be responsible for removal of phosphates at Thr14 and Tyr15 and subsequent activation of cdc2 (1,5).
Application References
Have you published research involving the use of our products? If so we'd love to hear about it. Please let us know!
Protocols
Companion Products
---
For Research Use Only. Not For Use In Diagnostic Procedures.
Cell Signaling Technology is a trademark of Cell Signaling Technology, Inc.
Tween is a registered trademark of ICI Americas, Inc.
Cell Signaling Technology® is a trademark of Cell Signaling Technology, Inc.
用户评论 --- 共 0 条
该产品暂无评论!