Product Pathways - Chromatin Regulation / Epigenetics
HCFC1 Antibody (Amino-terminal Antigen) #69690
PhosphoSitePlus ® protein, site, and accession data: HCFC1
Applications
Dilution
Species-Reactivity
Sensitivity
MW (kDa)
Isotype
W
1:1000
Human,Mouse,Rat,
Endogenous
120, 130, 135, 160, 260
Rabbit
IP
1:50
Species cross-reactivity is determined by western blot.
Applications Key: W=Western Blotting, IP=Immunoprecipitation,
Specificity / Sensitivity
HCFC1 Antibody (Amino-terminal Antigen) recognizes endogenous levels of total HCFC1 protein. This antibody also recognizes amino-terminal fragments (HCFC1-N) resulting from O-GlcNAc transferase (OGT) cleavage.
Source / Purification
Polyclonal antibodies are produced by immunizing animals with a synthetic peptide corresponding to residues surrounding Pro484 of human HCFC1 protein. Antibodies are purified by protein A and peptide affinity chromatography.
Western Blotting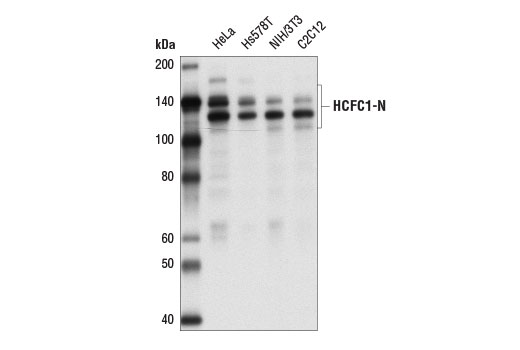 Western blot analysis of extracts from various cell lines using HCFC1 Antibody (Amino-terminal Antigen).
Background
Host cell factor C1 (HCFC1) was first identified as the host cell factor for human herpes simplex virus infection. HCFC1 and the viral protein VP16 belong to a multi-protein complex that promotes transcription of viral immediate early genes (1). The relatively large HCFC1 protein contains 6 centrally located 26 amino acid repeats that can be O-GlcNAcylated and subjected to O-linked beta-N-acetylglucosamine transferase (OGT) cleavage (2-4). The resulting amino-terminal (HCFC1-N) and carboxy-terminal (HCFC1-C) fragments are non-covalently associated and play important roles in cell cycle regulation. The HCFC1-N peptide facilitates progression through the G1 phase of the cell cycle while HCFC1-C enables proper mitosis and cytokinesis during the M phase (5-7). As HCFC1 plays an important role in neurodevelopment, mutations in the corresponding gene are associated with neurodevelopmental disorders (e.g., intellectual disability) in humans (8).
Application References
Have you published research involving the use of our products? If so we'd love to hear about it. Please let us know!
Protocols
Companion Products
---
For Research Use Only. Not For Use In Diagnostic Procedures.
Cell Signaling Technology is a trademark of Cell Signaling Technology, Inc.
Tween is a registered trademark of ICI Americas, Inc.
Cell Signaling Technology® is a trademark of Cell Signaling Technology, Inc.
用户评论 --- 共 0 条
该产品暂无评论!