Product Pathways - Tag Antibodies
HPC4-Tag Antibody #68083
Applications
Dilution
Species-Reactivity
Sensitivity
MW (kDa)
Isotype
W
1:1000
All Species Expected,
Transfected Only
Rabbit
IP
1:50
Species cross-reactivity is determined by western blot.
Applications Key: W=Western Blotting, IP=Immunoprecipitation,
Specificity / Sensitivity
HPC4-Tag Antibody recognizes recombinant proteins containing the HPC4-tag. This antibody recognizes the HPC4-tag fused to either the amino or carboxy terminus of targeted proteins in transfected cells.
Source / Purification
Polyclonal antibodies are produced by immunizing animals with a synthetic peptide corresponding to residues of the HPC4-tag.
IP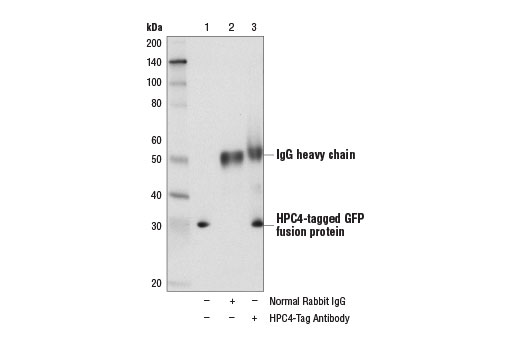 Immunoprecipitation of transfected HPC4-tagged GFP fusion protein from 293T cell extracts. Lane 1 is 10% input, lane 2 is Normal Rabbit IgG #2729, and lane 3 is HPC4-Tag Antibody. Western blot analysis was performed using HPC4-Tag Antibody.
Background
Epitope tags are useful for the labeling and detection of proteins using immunoblotting, immunoprecipitation, and immunostaining techniques. Because of their small size, they are unlikely to affect the tagged protein's biochemical properties.
HPC4-tag is a 12 amino acid sequence derived from protein C, which is a vitamin K-dependent plasma zymogen. Protein C is activated by proteolytic cleavage of the thrombin-thrombomodulin complex to form an anticoagulant enzyme (1,2). This peptide can be expressed and detected with the protein of interest as an amino-terminal or carboxy-terminal fusion (3,4).
Application References
Have you published research involving the use of our products? If so we'd love to hear about it. Please let us know!
Protocols
---
For Research Use Only. Not For Use In Diagnostic Procedures.
Cell Signaling Technology is a trademark of Cell Signaling Technology, Inc.
Tween is a registered trademark of ICI Americas, Inc.
Cell Signaling Technology® is a trademark of Cell Signaling Technology, Inc.
用户评论 --- 共 0 条
该产品暂无评论!