Product Pathways - Innate Immunity
GBP5 (D3A5O) Rabbit mAb #67798
PhosphoSitePlus ® protein, site, and accession data: GBP5
Applications
Dilution
Species-Reactivity
Sensitivity
MW (kDa)
Isotype
W
1:1000
Human,
Endogenous
67
Rabbit IgG
IP
1:200
Species cross-reactivity is determined by western blot.
Applications Key: W=Western Blotting, IP=Immunoprecipitation,
Specificity / Sensitivity
GBP5 (D3A5O) Rabbit mAb recognizes endogenous levels of total GBP5 protein. Depending on Western blotting conditions, GBP5 is sometimes observed as a doublet. This is likely due to cleavage of a predicted three amino acid propeptide sequence.
Source / Purification
Monoclonal antibody is produced by immunizing animals with a synthetic peptide corresponding to residues surrounding Ala561 of human GBP5 protein.
Western Blotting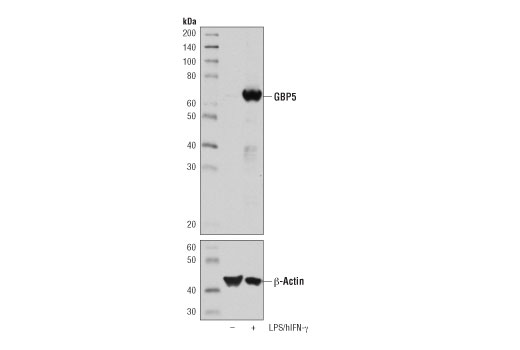 Western blot analysis of extracts from THP-1 cells, differentiated with TPA (12-O-Tetradecanoylphorbol-13-Acetate) #4174 (80 nM, overnight) and then untreated (-) or treated with Lipopolysaccharide (LPS) #14011 and Human Interferon-γ (hIFN-γ) #8901 (both at 100 ng/ml, 16 hr; +), using GBP5 (D3A5O) Rabbit mAb (upper) and β-Actin (D6A8) Rabbit mAb #8457 (lower).
Background
GBP5 (guanylate binding protein 5) is one of seven interferon-inducible GTPases in humans that have recently been shown to be involved in host defense against intracellular pathogens (1,2). Specifically, in response to intracellular bacteria or cell wall components, GBP5 acts as a tetramer to facilitate assembly of the NLRP3 inflammasome, leading to caspase-1 activation (2,3). In addition, GBP5 enables activation of the AIM2 inflammasome by promoting lysis of intracellular bacteria and release of pathogenic double-stranded DNA (4).
Application References
Have you published research involving the use of our products? If so we'd love to hear about it. Please let us know!
Protocols
Companion Products
---
For Research Use Only. Not For Use In Diagnostic Procedures.
Cell Signaling Technology is a trademark of Cell Signaling Technology, Inc.
Tween is a registered trademark of ICI Americas, Inc.
Cell Signaling Technology® is a trademark of Cell Signaling Technology, Inc.
用户评论 --- 共 0 条
该产品暂无评论!