Product Pathways - Chromatin Regulation / Epigenetics
DNMT3B (D7O7O) Rabbit mAb #67259
DNA methylation DNA methyltransferase methyltransferase
PhosphoSitePlus ® protein, site, and accession data: DNMT3B
Applications
Dilution
Species-Reactivity
Sensitivity
MW (kDa)
Isotype
W
1:1000
Human,
Endogenous
96
Rabbit IgG
IP
1:50
IF-IC
1:1600
Species cross-reactivity is determined by western blot.
Applications Key: W=Western Blotting, IP=Immunoprecipitation, IF-IC=Immunofluorescence (Immunocytochemistry),
Specificity / Sensitivity
DNMT3B (D7O7O) Rabbit mAb recognizes endogenous levels of total DNMT3B protein. This antibody also detects a non-specific protein of approximately 65 kDa in multiple cell lines. Based on sequence homology, this antibody should recognize all isoforms of DNMT3B. This antibody shows low sensitivity in IF-IC, where it only detects DNMT3B in high expressing cells. However, this clone detects DNMT3B in both high and low expressing cells by western blot.
Source / Purification
Monoclonal antibody is produced by immunizing animals with recombinant protein surrounding Ala395 of human DNMT3B protein.
IF-IC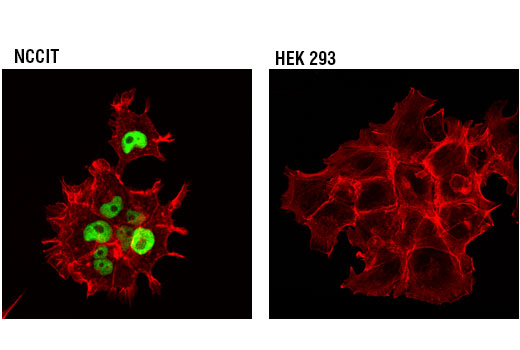 Confocal immunofluorescent analysis of NCCIT (left) and HEK 293 (right) cells using DNMT3B (D7O7O) Rabbit mAb (green). Actin filaments were labeled with DyLight™ 554 Phalloidin #13054 (red). HEK 293 cells express very low levels of DNMT3B protein.
Background
Methylation of DNA at cytosine residues in mammalian cells is a heritable, epigenetic modification that is critical for proper regulation of gene expression, genomic imprinting and development (1,2). Three families of mammalian DNA methyltransferases have been identified: DNMT1, DNMT2 and DNMT3 (1,2). DNMT1 is constitutively expressed in proliferating cells and functions as a maintenance methyltransferase, transferring proper methylation patterns to newly synthesized DNA during replication. DNMT3A and DNMT3B are strongly expressed in embryonic stem cells with reduced expression in adult somatic tissues. DNMT3A and DNMT3B function as de novo methyltransferases that methylate previously unmethylated regions of DNA. DNMT2 is expressed at low levels in adult somatic tissues and its inactivation affects neither de novo nor maintenance DNA methylation. DNMT1, DNMT3A and DNMT3B together form a protein complex that interacts with histone deacetylases (HDAC1, HDAC2, Sin3A), transcriptional repressor proteins (RB, TAZ-1) and heterochromatin proteins (HP1, SUV39H1), to maintain proper levels of DNA methylation and facilitate gene silencing (3-8). Improper DNA methylation contributes to diseased states such as cancer (1,2). Hypermethylation of promoter CpG islands within tumor suppressor genes correlates with gene silencing and the development of cancer. In addition, hypomethylation of bulk genomic DNA correlates with and may contribute to the onset of cancer. DNMT1, DNMT3A and DNMT3B are over-expressed in many cancers, including acute and chronic myelogenous leukemias, in addition to colon, breast and stomach carcinomas (9-12).
Application References
Have you published research involving the use of our products? If so we'd love to hear about it. Please let us know!
Protocols
Companion Products
---
For Research Use Only. Not For Use In Diagnostic Procedures.
DyLight is a trademark of Thermo Fisher Scientific, Inc. and its subsidiaries.
Cell Signaling Technology is a trademark of Cell Signaling Technology, Inc.
XP is a registered trademark of Cell Signaling Technology, Inc.
Tween is a registered trademark of ICI Americas, Inc.
Cell Signaling Technology® is a trademark of Cell Signaling Technology, Inc.
用户评论 --- 共 0 条
该产品暂无评论!