Product Pathways - Neuroscience
SV2A (D1L8S) Rabbit mAb #66724
PhosphoSitePlus ® protein, site, and accession data: SV2A
Applications
Dilution
Species-Reactivity
Sensitivity
MW (kDa)
Isotype
W
1:1000
Human,Mouse,Rat,
Endogenous
80-100
Rabbit IgG
IP
1:50
IF-F
1:400
Species cross-reactivity is determined by western blot.
Applications Key: W=Western Blotting, IP=Immunoprecipitation, IF-F=Immunofluorescence (Frozen),
Specificity / Sensitivity
SV2A (D1L8S) Rabbit mAb recognizes endogenous levels of total SV2A protein.
Source / Purification
Monoclonal antibody is produced by immunizing animals with a synthetic peptide corresponding to residues surrounding Phe516 of human SV2A protein.
IF-F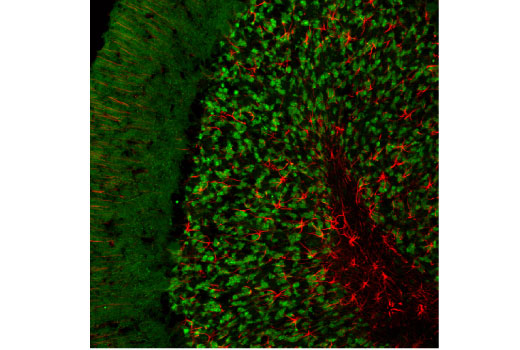 Confocal immunofluorescent analysis of normal rat brain using SV2A (D1L8S) Rabbit mAb (green) and GFAP (GA5) Mouse mAb #3670 (red).
Background
SV2s are a family of synaptic vesicle proteins expressed in both neurons and endocrine cells. SV2s function in the regulation of synaptic vesicle traffic, cytoplasmic Ca2+ levels in the nerve terminal during repetitive stimulation and the facilitation of synaptic transmission. There are three isoforms of SV2: SV2A, SV2B and SV2C. Each of these isoforms are structured similarly but expressed varyingly. SV2C, a minor isoform of SV2, expressed in a small subset of neurons located within the basal forebrain, midbrain and brainstem. SV2B, a major isoform of SV2 is expressed more abundantly, although rarely without the coexpression of SV2A. SV2A, the other major isoform of SV2 is the most widely expressed. SV2A is located in the presynaptic nerve terminals of almost every neuron throughout the nervous system. In addition, it is also located in most neuroendocrine secretory granules (1). SV2A has been identified as a critical protein for proper function of the central nervous system and has been linked to the physiopathology of epilepsy (2). In addition to the epileptic affects of this protein, mutations in it have also been seen to result in schizophrenia (3).
Application References
Have you published research involving the use of our products? If so we'd love to hear about it. Please let us know!
Protocols
Companion Products
---
For Research Use Only. Not For Use In Diagnostic Procedures.
Cell Signaling Technology is a trademark of Cell Signaling Technology, Inc.
Tween is a registered trademark of ICI Americas, Inc.
Cell Signaling Technology® is a trademark of Cell Signaling Technology, Inc.
用户评论 --- 共 0 条
该产品暂无评论!