Product Pathways - Tyrosine Kinase / Adaptors
EphA7 (D1C3K) Rabbit mAb #64801
PhosphoSitePlus ® protein, site, and accession data: EPHA7
Applications
Dilution
Species-Reactivity
Sensitivity
MW (kDa)
Isotype
W
1:1000
Human,
Endogenous
130
Rabbit IgG
IP
1:100
Species cross-reactivity is determined by western blot.
Applications Key: W=Western Blotting, IP=Immunoprecipitation,
Specificity / Sensitivity
EphA7 (D1C3K) Rabbit mAb recognizes endogenous levels of total EphA7 protein.
Source / Purification
Monoclonal antibody is produced by immunizing animals with a synthetic peptide corresponding to residues surrounding Leu914 of human EphA7 protein.
Western Blotting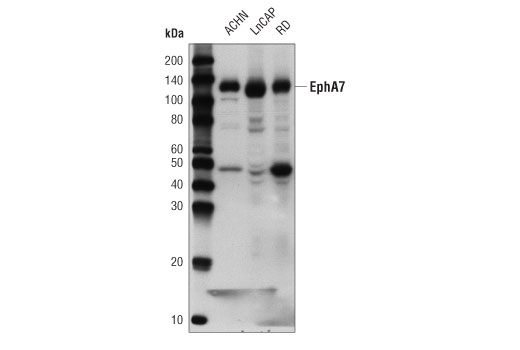 Western blot analysis of extracts from ACHN, LNCaP, and RD cell lines using EphA7 (D1C3K) Rabbit mAb.
Background
The Eph receptors are the largest known family of receptor tyrosine kinases (RTKs). They can be divided into two groups based on sequence similarity and on their preference for a subset of ligands. While EphA receptors bind to a glycosylphosphatidylinositol-anchored ephrin A ligand, EphB receptors bind to ephrin B proteins that have a transmembrane and cytoplasmic domain (1,2). Research studies have shown that Eph receptors and ligands may be involved in many diseases including cancer (3). Both ephrin A and B ligands have dual functions. As RTK ligands, ephrins stimulate the kinase activity of Eph receptors and activate signaling pathways in receptor-expressing cells. The ephrin extracellular domain is sufficient for this function as long as it is clustered (4). The second function of ephrins has been described as "reverse signaling", whereby the cytoplasmic domain becomes tyrosine phosphorylated, allowing interactions with other proteins that may activate signaling pathways in the ligand-expressing cells (5).
The EphA7 receptor preferentially binds ephrin-A5 as a ligand. This ligand-receptor interaction stimulates EphA7 signaling and induces apoptotic cell death through TNFR1 and caspase-8 pathway (6,7). EphA7 plays a critical role in organ development during neural tube closure, cortical dendritic development and spine maturation as well as urine tract insertion (8-10). Secreted EphA7 has been shown to promote somatic cell reprogramming through ERK activity reduction (11). Silencing of the secreted form of EphA7 is associated with germinal center B cell lymhomas. The secreted form of EphA7 has been proposed as a soluble tumor suppresor in lymphoma (12-14).
Application References
Have you published research involving the use of our products? If so we'd love to hear about it. Please let us know!
Protocols
Companion Products
---
For Research Use Only. Not For Use In Diagnostic Procedures.
Cell Signaling Technology is a trademark of Cell Signaling Technology, Inc.
XP is a registered trademark of Cell Signaling Technology, Inc.
Tween is a registered trademark of ICI Americas, Inc.
Cell Signaling Technology® is a trademark of Cell Signaling Technology, Inc.
用户评论 --- 共 0 条
该产品暂无评论!