Product Pathways - DNA Damage
TDP1 (D8D1B) Rabbit mAb #59710
PhosphoSitePlus ® protein, site, and accession data: TDP1
Applications
Dilution
Species-Reactivity
Sensitivity
MW (kDa)
Isotype
W
1:1000
Human,Mouse,Rat,
Endogenous
70
Rabbit IgG
IF-IC
1:50
Species cross-reactivity is determined by western blot.
Applications Key: W=Western Blotting, IF-IC=Immunofluorescence (Immunocytochemistry),
Specificity / Sensitivity
TDP1 (D8D1B) Rabbit mAb recognizes endogenous levels of total TDP1 protein.
Source / Purification
Monoclonal antibody is produced by immunizing animals with a synthetic peptide corresponding to residues surrounding Pro587 of human TDP1 protein.
IF-IC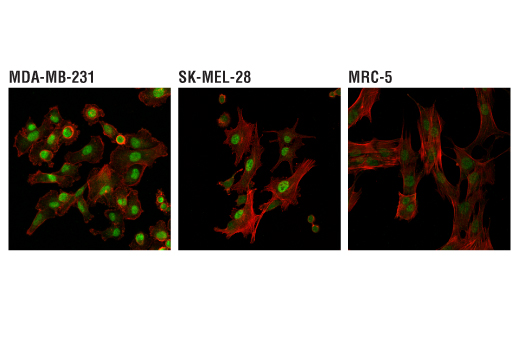 Confocal immunofluorescent analysis of MDA-MB-231 (left, high expressing), SK-MEL-28 (center, moderately expressing), and MRC-5 (right, lower expressing) cells using TDP1 (D8D1B) Rabbit mAb (green). Actin filaments were labeled with DyLight™ 554 Phalloidin #13054 (red).
Background
Topoisomerases are ubiquitous, conserved enzymes that remove DNA supercoils resulting from processes such as chromosome segregation, DNA replication, transcription, and repair (1). Topoisomerase inhibitors such as camptothecin and etoposide trap the enzyme as a DNA-bound intermediate, and these drugs are used to treat multiple human cancers (1,2). Tyrosyl-DNA-phosphodiesterases TDP1 and TDP2 function in the base excision repair (BER) and nonhomologous end joining (NHEJ) DNA repair pathways, respectively, and function in part in the repair of stalled topoisomerase-DNA complexes (3). Research has shown that inhibitors of tyrosyl-DNA-phosphodiesterases may act synergistically with topoisomerase inhibitors, allowing the potential for a more robust treatment of cancer (4,5). In small cell lung cancer, research suggests that TDP1 and topoisomerase 1 levels can predict sensitivity to topoisomerase 1 inhibitors (6).
Application References
Have you published research involving the use of our products? If so we'd love to hear about it. Please let us know!
Protocols
59710 :
Companion Products
---
For Research Use Only. Not For Use In Diagnostic Procedures.
DyLight is a trademark of Thermo Fisher Scientific, Inc. and its subsidiaries.
Cell Signaling Technology is a trademark of Cell Signaling Technology, Inc.
Tween is a registered trademark of ICI Americas, Inc.
Cell Signaling Technology® is a trademark of Cell Signaling Technology, Inc.
用户评论 --- 共 0 条
该产品暂无评论!