Product Pathways - Transcription Factors
PAX8 (D2S2I) Rabbit mAb #59019
PhosphoSitePlus ® protein, site, and accession data: PAX8
Applications
Dilution
Species-Reactivity
Sensitivity
MW (kDa)
Isotype
W
1:1000
Human,Monkey,
Endogenous
48
Rabbit IgG
IP
1:50
IF-IC
1:200
ChIP
1:50
Species cross-reactivity is determined by western blot.
Applications Key: W=Western Blotting, IP=Immunoprecipitation, IF-IC=Immunofluorescence (Immunocytochemistry), ChIP=Chromatin IP,
Homology
Species predicted to react based on 100% sequence homology: Rat,
Specificity / Sensitivity
PAX8 (D2S2I) Rabbit mAb recognizes endogenous levels of total PAX8 protein. PAX8 (D2S2I) Rabbit mAb may detect other isoforms of Pax8.
Source / Purification
Monoclonal antibody is produced by immunizing animals with a synthetic peptide corresponding to residues surrounding Gly274 of human PAX8 protein.
Western Blotting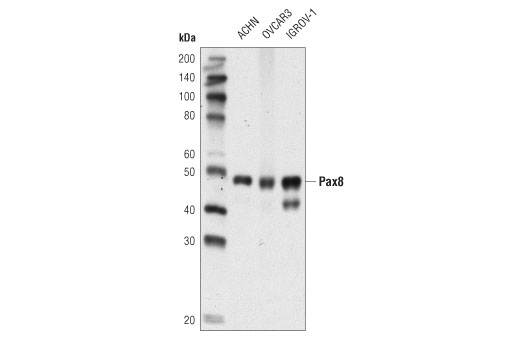 Western blot analysis of extracts from ACHN, OVCAR3, and IGROV-1 cells using PAX8 (D2S2I) Rabbit mAb.
Chromatin IP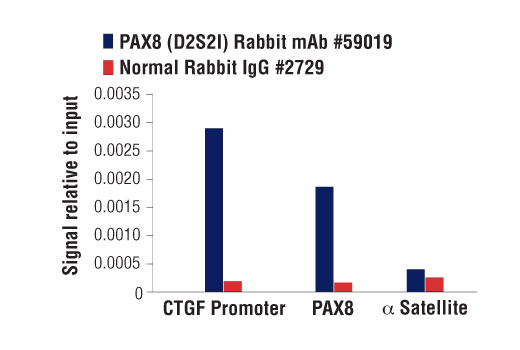 Chromatin immunoprecipitations were performed with cross-linked chromatin from 4 x 106 786-O cells and either 10 μl of PAX8 (D2S2I) Rabbit mAb #59019, or 2 μl of Normal Rabbit IgG #2729, using SimpleChIP® Enzymatic Chromatin IP Kit (Magnetic Beads) #9003. The enriched DNA was quantified by Real-Time PCR using SimpleChIP® Human CTGF Promoter Primers #14927, human PAX8 promoter primers, and SimpleChIP® Human α Satellite Repeat Primers #4486. The amount of immunoprecipitated DNA in each sample is represented as signal relative to the total amount of input chromatin, which is equivalent to one.
Background
Paired box (PAX) proteins are a family of transcription factors that play important and diverse roles in animal development (1). Nine PAX proteins (PAX1-9) have been described in humans and other mammals. They are defined by the presence of an amino-terminal "paired" domain, consisting of two helix-turn-helix motifs, with DNA binding activity (2). PAX proteins are classified into four structurally distinct subgroups (I-IV) based on the absence or presence of a carboxy-terminal homeodomain and a central octapeptide region. Subgroup I (PAX1 and 9) contains the octapeptide but lacks the homeodomain; subgroup II (PAX2, 5, and 8) contains the octapeptide and a truncated homeodomain; subgroup III (PAX3 and 7) contains the octapeptide and a complete homeodomain; and subgroup IV (PAX4 and 6) contains a complete homeodomain but lacks the octapeptide region (2). PAX proteins play critically important roles in development by regulating transcriptional networks responsible for embryonic patterning and organogenesis (3); a subset of PAX proteins also maintain functional importance during postnatal development (4). Research studies have implicated genetic mutations that result in aberrant expression of PAX genes in a number of cancer subtypes (1-3), with members of subgroups II and III identified as potential mediators of tumor progression (2).
PAX8 is involved in the development of thyroid follicular cells and the expression of thyroid-specific genes (5). Investigators have associated mutations in the PAX8 gene with thyroid dysgenesis, thyroid follicular carcinomas, and atypical follicular thyroid adenomas (6,7).
Application References
Have you published research involving the use of our products? If so we'd love to hear about it. Please let us know!
Protocols
Companion Products
---
For Research Use Only. Not For Use In Diagnostic Procedures.
DRAQ5 is a registered trademark of Biostatus Limited.
DyLight is a trademark of Thermo Fisher Scientific, Inc. and its subsidiaries.
Cell Signaling Technology is a trademark of Cell Signaling Technology, Inc.
SimpleChIP is a registered trademark of Cell Signaling Technology, Inc.
Tween is a registered trademark of ICI Americas, Inc.
Cell Signaling Technology® is a trademark of Cell Signaling Technology, Inc.
用户评论 --- 共 0 条
该产品暂无评论!