Product Pathways - Neuroscience
CLIC1 (D7D6H) Rabbit mAb #53424
PhosphoSitePlus ® protein, site, and accession data: CLIC1
Applications
Dilution
Species-Reactivity
Sensitivity
MW (kDa)
Isotype
W
1:1000
Human,Mouse,Rat,
Endogenous
22
Rabbit IgG
IP
1:50
Species cross-reactivity is determined by western blot.
Applications Key: W=Western Blotting, IP=Immunoprecipitation,
Specificity / Sensitivity
CLIC1 (D7D6H) Rabbit mAb recognizes endogenous levels of total CLIC1 protein.
Source / Purification
Monoclonal antibody is produced by immunizing animals with a synthetic peptide corresponding to residues near the amino terminus of human CLIC1 protein.
Western Blotting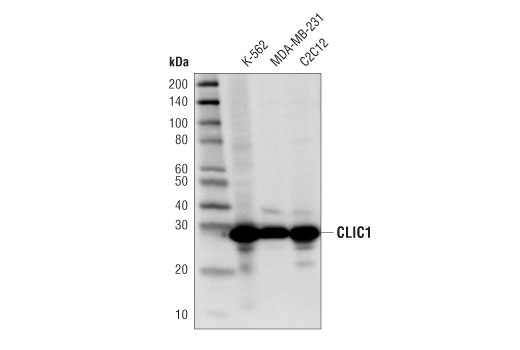 Western blot analysis of extracts from K-562, MDA-MB-231, and C2C12 cells using CLIC1 (D7D6H) Rabbit mAb.
Background
Chloride intracellular channel (CLIC) proteins belong to a family of highly conserved transport proteins found as both soluble and membrane-bound forms (1). Although CLIC proteins have putative, selective chloride ion channel activity, they are structural homologs to members of the glutathione-S-transferase protein superfamily and are likewise regulated by redox status (2). CLIC proteins are distinct from other ion channels in that they are found as both soluble and integral membrane forms, and their form determines their function (3-6). Chloride intracellular channel proteins are ubiquitously expressed in numerous tissue types and are involved in diverse biological functions (1,2).
CLIC1 is a member of the CLIC protein family. It is ubiquitously expressed in many tissues and organs (7). CLIC1 is overexpressed in multiple tumor types and has been implicated in the proliferation, migration, and invasion of these tumors (8-11). In the central nervous system, CLIC1 protein expression is elevated upon amyloid β-peptide treatment in neonatal rat microglia. Inhibition of CLIC1 prevents neuronal apoptosis in neurons co-cultured with amyloid β-peptide treated microglia (12). Further studies indicate that CLIC1 translocates from the cytosol to the plasma membrane of microglia upon exposure to amyloid β-peptide, and contributes to the subsequent neurotoxicity through generation of superoxide anions (13). These discoveries implicate CLIC1 as a possible therapeutic target for Alzheimer's disease.
Application References
Have you published research involving the use of our products? If so we'd love to hear about it. Please let us know!
Protocols
Companion Products
---
For Research Use Only. Not For Use In Diagnostic Procedures.
Cell Signaling Technology is a trademark of Cell Signaling Technology, Inc.
XP is a registered trademark of Cell Signaling Technology, Inc.
Tween is a registered trademark of ICI Americas, Inc.
Cell Signaling Technology® is a trademark of Cell Signaling Technology, Inc.
用户评论 --- 共 0 条
该产品暂无评论!