Product Pathways - Chromatin Regulation / Epigenetics
MEX3C (D5T2Z) Rabbit mAb #50844
PhosphoSitePlus ® protein, site, and accession data: RKHD2
| Applications | Dilution | Species-Reactivity | Sensitivity | MW (kDa) | Isotype |
| --- | --- | --- | --- | --- | --- |
| W | 1:1000 | Human,Mouse,Rat, | Endogenous | 80 | Rabbit IgG |
Species cross-reactivity is determined by western blot.
Applications Key: W=Western Blotting,
Specificity / Sensitivity
MEX3C (D5T2Z) Rabbit mAb recognizes endogenous levels of total MEX3C protein.
Source / Purification
Monoclonal antibody is produced by immunizing animals with a synthetic peptide corresponding to residues surrounding Ala54 of human MEX3C protein.
Western Blotting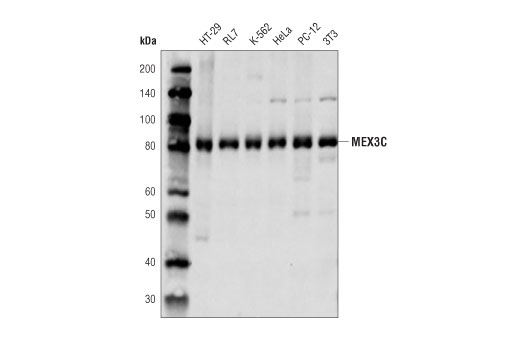 Western blot analysis of extracts frm various cell lines using MEX3C (D5T2Z) Rabbit mAb.
Background
MEX3C is an RNA-binding E3 ubiquitin ligase implicated in a diverse set of biological functions.
Along with PIGN and ZNF516, MEX3C has been identified as a suppressor of chromosome instability (CIN), which drives intratumor heterogeneity and has been associated with poor prognosis in colon cancer. Silencing of the Mex3c gene induces chromosome instability through replication stress/impaired replication fork progression (1).
In mice, absence of the Mex3c gene causes growth retardation and reduced insulin-like growth factor 1 (IGF1) expression (2). Researchers have shown that murine MEX3C plays a role in controlling energy expenditure, physical activity and degree of adiposity (3,4). In the immune system, MEX3C is involved in post-transcriptional regulation of HLA-A2 (5), and plays a role in eliciting antiviral response (6).
Application References
Have you published research involving the use of our products? If so we'd love to hear about it. Please let us know!
Protocols
50844 :
Companion Products
---
For Research Use Only. Not For Use In Diagnostic Procedures.
Cell Signaling Technology is a trademark of Cell Signaling Technology, Inc.
Tween is a registered trademark of ICI Americas, Inc.
Cell Signaling Technology® is a trademark of Cell Signaling Technology, Inc.
用户评论 --- 共 0 条
该产品暂无评论!