Product Pathways - Ca / cAMP / Lipid Signaling
Phospho-PLCγ1 (Ser1248) Antibody #4510
PhosphoSitePlus ® protein, site, and accession data: PLCGAMMA1
| Applications | Dilution | Species-Reactivity | Sensitivity | MW (kDa) | Isotype |
| --- | --- | --- | --- | --- | --- |
| W | 1:1000 | Human,Mouse,Rat,Monkey, | Endogenous | 155 | Rabbit |
Species cross-reactivity is determined by western blot.
Applications Key: W=Western Blotting,
Specificity / Sensitivity
Phospho-PLCγ1 (Ser1248) Antibody detects PLCγ1 only when phosphorylated at Ser1248.
Phospho-PLCγ1 (Ser1248)抗体识别内源性的Ser1248磷酸化的PLCγ1蛋白。
Source / Purification
Polyclonal antibodies are produced by immunizing animals with a synthetic phosphopeptide corresponding to residues surrounding Ser1248 of human PLCγ1. Antibodies are purified by protein A and peptide affinity chromatography.
该多克隆抗体用与人类PLCγ1蛋白中Ser1248附近的氨基酸序列对应的人工合成磷酸化肽段免疫动物而制成。该抗体使用蛋白A和蛋白亲和层析纯化而得。
Western Blotting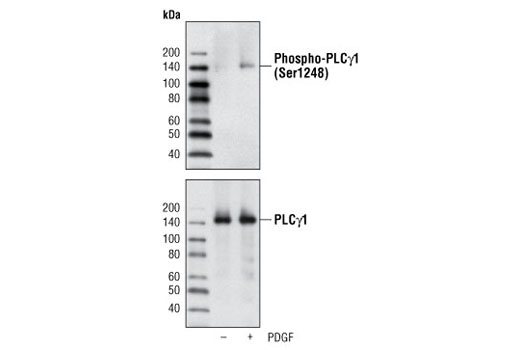 Western blot analysis of extracts from NIH/3T3 cells, untreated or PDGF-treated, using Phospho-PLCγ1 (Ser1248) Antibody (upper) or PLCγ1 Antibody #2822 (lower).
对未处理或用PDGF刺激的NIH/3T3细胞抽提液物,使用Phospho-PLCγ1 (Ser1248)抗体(上图)或PLCγ1抗体#2822(下图)进行Western blot分析。
Background
Phosphoinositide-specific phospholipase C (PLC) plays a significant role in transmembrane signaling. In response to extracellular stimuli such as hormones, growth factors and neurotransmitters, PLC hydrolyzes phosphatidylinositol 4,5-bisphosphate (PIP2) to generate two secondary messengers: inositol 1,4,5-triphosphate (IP3) and diacylglycerol (DAG) (1). At least four families of PLCs have been identified: PLCβ, PLCγ, PLCδ and PLCε. The PLCβ subfamily includes four members, PLCβ1-4. All four members of the subfamily are activated by α- or β-γ-subunits of the heterotrimeric G-proteins (2,3). 
 Phosphorylation is one of the key mechanisms that regulates the activity of PLC. Phosphorylation of Ser1105 by PKA or PKC inhibits PLCβ3 activity (4,5). Ser537 of PLCβ3 is phosphorylated by CaMKII, and this phosphorylation may contribute to the basal activity of PLCβ3. PLCγ is activated by both receptor and nonreceptor tyrosine kinases (6). 
 PLCγ forms a complex with EGF and PDGF receptors, which leads to the phosphorylation of PLCγ at Tyr771, 783 and 1245 (7). Phosphorylation by Syk at Tyr783 activates the enzymatic activity of PLCγ1 (8).
磷酸肌醇特异性磷脂酶C(PLC)在跨膜信号转导中扮演明显的作用。在对激素、生长因子和神经递质反应的过程中,PLC水解4,5-二磷酸磷酸酰肌醇,产生两个第二信使:1,4,5-三磷酸肌醇(IP3)和甘油二酯(DAG)(1)。至少四个PLC家族已被确定,分别为PLC-α、PLC-β、PLC-γ和PLC-δ。PLC-α亚家族包括四个成员,PLC1-4。所有四个亚家族成员都可以被异源三聚体G蛋白的α-或β-γ-亚基激活(2,3)。磷酸化是调节PLC活性的重要机制之一。PKA或PKC对Ser1105的磷酸化可以抑制PLCβ3的活性(4,5)。PLCβ3的Ser537磷酸化由CaMKII进行,此位点的磷酸化对PLCβ3的基础活性有贡献。PLCγ被受体和非受体酪氨酸激酶激活(6)。PLCγ与EGF和PDGF受体形成复合物,导致PLCγ的Tyr771、783和1245位点磷酸化(7)。Syk对Tyr783的磷酸化激活PLCγ1的酶活性(8)。
Phosphorylation of PLCγ1 ar Y783 by EGFR causes a conformational change of PLCγ1 that allows the interaction of its SH3 domain with Akt proline-rich motifs. This interaction results in Akt phosphorylation of PLCγ1 at S1248 by Akt (9).
EGFR在PLCγ1蛋白Y783的磷酸化导致一个构象改变,允许其SH3结构域与Akt富含脯氨酸模体相互作用。富含脯氨酸这种相互作用导致Akt对PLCγ1的S1248的磷酸化(9)。
Application References
Have you published research involving the use of our products? If so we'd love to hear about it. Please let us know!
Protocols
4510 :
Companion Products
---
For Research Use Only. Not For Use In Diagnostic Procedures.
Cell Signaling Technology is a trademark of Cell Signaling Technology, Inc.
Cell Signaling Technology® is a trademark of Cell Signaling Technology, Inc.
用户评论 --- 共 0 条
该产品暂无评论!