Product Pathways - DNA Damage
SMARCAL1 (D3P5I) Rabbit mAb #44717
PhosphoSitePlus ® protein, site, and accession data: SMARCAL1
Applications
Dilution
Species-Reactivity
Sensitivity
MW (kDa)
Isotype
W
1:1000
Human,
Endogenous
105
Rabbit IgG
IP
1:50
Species cross-reactivity is determined by western blot.
Applications Key: W=Western Blotting, IP=Immunoprecipitation,
Specificity / Sensitivity
SMARCAL1 (D3P5I) Rabbit mAb recognizes endogenous levels of total SMARCAL1 protein.
Source / Purification
Monoclonal antibody is produced by immunizing animals with a synthetic peptide corresponding to residues surrounding Ala933 of human SMARCAL1 protein.
Western Blotting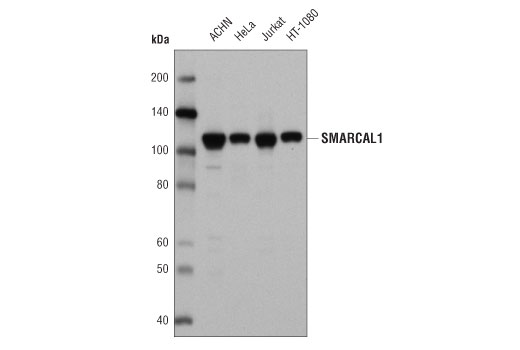 Western blot analysis of extracts from various cell lines using SMARCAL1 (D3P5I) Rabbit mAb.
Background
SMARCAL1 was first identified as a ubiquitously expressed member of the SNF2 family with homology to the E. coli protein HepA (1). Mutations in the gene encoding SMARCAL1 were subsequently shown to be the cause of Schimke immuno-osseous dysplasia (SIOD), an autosomal recessive disorder characterized by phenotypes in multiple systems, including spondyloepiphyseal dysplasia, renal dysfunction, immunodeficiency, and impaired neurological function (2). Researchers have also associated SMARCAL1 deficiency with predisposition to non-Hodgkin's lymphoma (3). The array of phenotypes associated with SMARCAL1 is likely due to its role as an annealing helicase in the DNA damage response. During DNA replication stress, SMARCAL1 is phosphorylated by DNA repair kinases (ATM, ATR, DNA-PK) (4). SMARCAL1 deficiency sensitizes cells to replication stress agents, and appears to increase the frequency of replication fork breakdown (4,5). SMARCAL1 is also required for efficient DNA double strand break repair via the nonhomologous end joining (NHEJ) DNA repair pathway (6). Researchers have suggested that inhibitors targeting SMARCAL1 may be effective in sensitizing cancer cells to chemotherapeutic agents (reviewed in 7).
Application References
Have you published research involving the use of our products? If so we'd love to hear about it. Please let us know!
Protocols
Companion Products
---
For Research Use Only. Not For Use In Diagnostic Procedures.
Cell Signaling Technology is a trademark of Cell Signaling Technology, Inc.
XP is a registered trademark of Cell Signaling Technology, Inc.
Tween is a registered trademark of ICI Americas, Inc.
Cell Signaling Technology® is a trademark of Cell Signaling Technology, Inc.
用户评论 --- 共 0 条
该产品暂无评论!