Product Pathways - Tyrosine Kinase / Adaptors
Abi1 (D3G6C) Rabbit mAb #39444
Applications
Dilution
Species-Reactivity
Sensitivity
MW (kDa)
Isotype
W
1:1000
Human,Mouse,Rat,
Endogenous
55-65
Rabbit IgG
IP
1:100
Species cross-reactivity is determined by western blot.
Applications Key: W=Western Blotting, IP=Immunoprecipitation,
Specificity / Sensitivity
Abi1 (D3G6C) Rabbit mAb recognizes endogenous levels of total Abi1 protein.
Source / Purification
Monoclonal antibody is produced by immunizing animals with a synthetic peptide corresponding to residues surrounding Thr118 of human Abi1 protein.
Western Blotting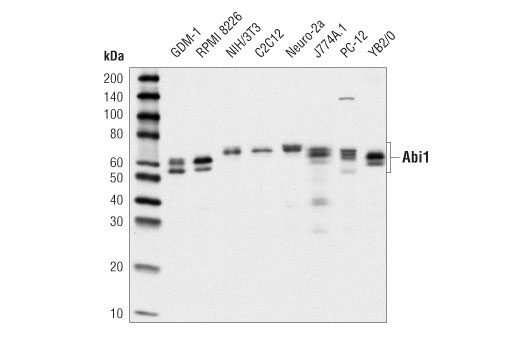 Western blot analysis of extracts from various cell lines using Abi1 (D3G6C) Rabbit mAb.
Background
Abi1, Abi2 and Abi3 are members of the Abl1 interactor family, which function as adaptor signaling molecules down stream of the receptor tyrosine kinase Ab1 (1-3). In addition to Abl, Abi1 has been shown to interact with the important signaling transducers WAVE and p85PI3K to regulate cytoskeletal and growth signaling (4,5). Along its sequences, Abi1 has multiple modules for carrying on these interactions. It has a WAVE binding domain, which allows it to interact with WAVE, a homeo-domain/PEST domain, which, when phosphorylated can acts as a docking site for SH2 binding, a PXXP sequence to interact with the SH3 domain of Abl, and a C-terminal SH3 domain for interaction with the proline rich region of Ab1 (4,5). Abl can phosphorylate Abi1 on Y213 (6), the phosphorylated sequence serves as a docking site for both the SH2 domain of Abl and the SH2 domain of p85PI3K (7). Another important phosphorylation site for Abi1 is Y435. Phosphorylation of Abi1 at Y435 promotes tumor cell adhesion and invasion (8).
Application References
Have you published research involving the use of our products? If so we'd love to hear about it. Please let us know!
Protocols
Companion Products
---
For Research Use Only. Not For Use In Diagnostic Procedures.
Cell Signaling Technology is a trademark of Cell Signaling Technology, Inc.
XP is a registered trademark of Cell Signaling Technology, Inc.
Cell Signaling Technology® is a trademark of Cell Signaling Technology, Inc.
用户评论 --- 共 0 条
该产品暂无评论!