Product Pathways - Transcription Factors
GATA-4 (D3A3M) Rabbit mAb #36966
PhosphoSitePlus ® protein, site, and accession data: GATA4
Applications
Dilution
Species-Reactivity
Sensitivity
MW (kDa)
Isotype
W
1:1000
Human,
Endogenous
55
Rabbit IgG
F
1:400
IF-IC
1:400
Species cross-reactivity is determined by western blot.
Applications Key: W=Western Blotting, F=Flow Cytometry, IF-IC=Immunofluorescence (Immunocytochemistry),
Homology
Species predicted to react based on 100% sequence homology: Mouse, Rat,
Specificity / Sensitivity
GATA-4 (D3A3M) Rabbit mAb recognizes endogenous levels of total GATA-4 protein.
Source / Purification
Monoclonal antibody is produced by immunizing animals with a synthetic peptide corresponding to residues near the amino terminus of human GATA-4 protein.
IF-IC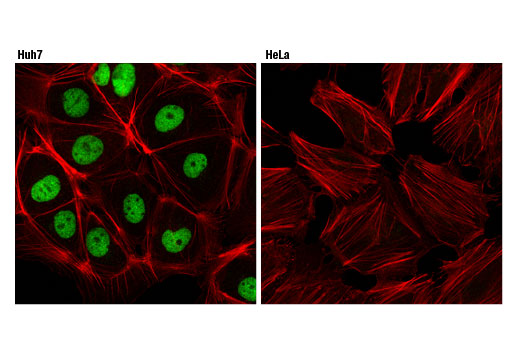 Confocal immunofluorescent analysis of Huh7 (left) and HeLa (right) cells using GATA-4 (D3A3M) Rabbit mAb (green). Actin filaments were labeled with DyLight™ 554 Phalloidin #13054 (red).
Western Blotting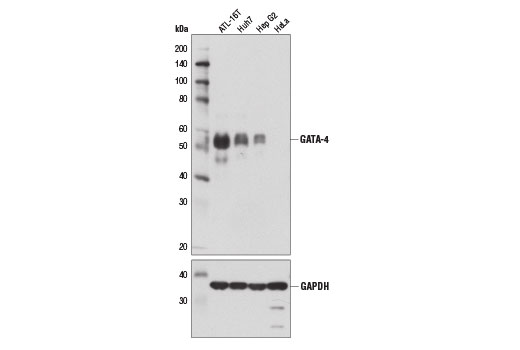 Western blot analysis of extracts from various cell lines using GATA-4 (D3A3M) Rabbit mAb (upper) and GAPDH (D16H11) XP® Rabbit mAb #5174 (lower). As expected, HeLa cells exhibit very low GATA-4 expression.
Background
GATA proteins comprise a group of transcription factors that are related by the presence of conserved zinc finger DNA binding domains, which bind directly to the nucleotide sequence core element GATA (1-3). There are six vertebrate GATA proteins, designated GATA-1 to GATA-6 (3).
GATA-4 is crucial for cardiomyocyte differentiation (4), and not surprisingly, mutations in the GATA-4 gene are implicated in many cardiac diseases, such as tetralogy of Fallot (5), familial and sporadic dilated cardiomyopathy (6,7), and atrial septal defect (8). GATA-4 and GATA-6 together maintain intestinal epithelial structure by regulating enterocyte gene expression (9). They also have overlapping roles in steroidogenesis and genital ridge formation during gonadal development (10). GATA-4 is also a required factor for bone mineralization in osteoblast progenitor cells, where it suppresses TGF-β and activates BMP signaling (11). Research studies have uncovered crosstalk among the transcription factors GATA-4, GATA-6, and KLF5 that promotes gastric cancer development (12). Additional studies describe the role of histone H3K9 hyperacetylation on the GATA-4 promoter in fetal mice that have been exposed to ethanol (13).
Application References
Have you published research involving the use of our products? If so we'd love to hear about it. Please let us know!
Protocols
36966 :
Companion Products
---
For Research Use Only. Not For Use In Diagnostic Procedures.
DyLight is a trademark of Thermo Fisher Scientific, Inc. and its subsidiaries.
Cell Signaling Technology is a trademark of Cell Signaling Technology, Inc.
XP is a registered trademark of Cell Signaling Technology, Inc.
Alexa Fluor is a registered trademark of Life Technologies Corporation.
Tween is a registered trademark of ICI Americas, Inc.
Cell Signaling Technology® is a trademark of Cell Signaling Technology, Inc.
用户评论 --- 共 0 条
该产品暂无评论!