Product Pathways - Adhesion
EpCAM (D4K8R) XP® Rabbit mAb #36746
Ep-CAM EpCAM Epithelial cell adhesion molecule TROP1
PhosphoSitePlus ® protein, site, and accession data: EPCAM
Applications
Dilution
Species-Reactivity
Sensitivity
MW (kDa)
Isotype
IP
1:50
Human,
Endogenous
40
Rabbit IgG
F
1:50
IF-IC
1:100
Species cross-reactivity is determined by western blot.
Applications Key: IP=Immunoprecipitation, F=Flow Cytometry, IF-IC=Immunofluorescence (Immunocytochemistry),
Specificity / Sensitivity
EpCAM (D4K8R) XP® Rabbit mAb recognizes endogenous levels of total EpCAM protein.
Source / Purification
Monoclonal antibody is produced by immunizing animals with mammalian cells expressing full length EpCAM protein.
Flow Cytometry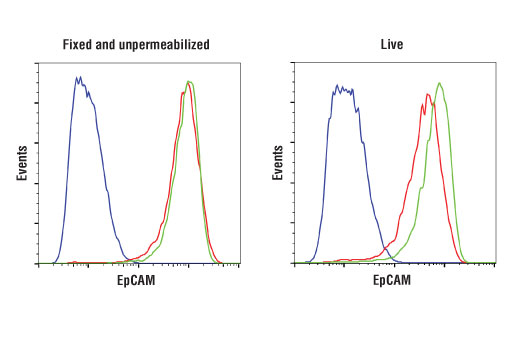 Flow cytometric analysis of fixed and unpermeabilized (left) and live (right) HeLa cells (blue), HT-29 cells (red), and MCF7 cells (green) using EpCAM (D4K8R) XP® Rabbit mAb. Anti-rabbit IgG (H+L), F(ab')2 Fragment (Alexa Fluor® 488 Conjugate) #4412 was used as a secondary antibody.
IF-IC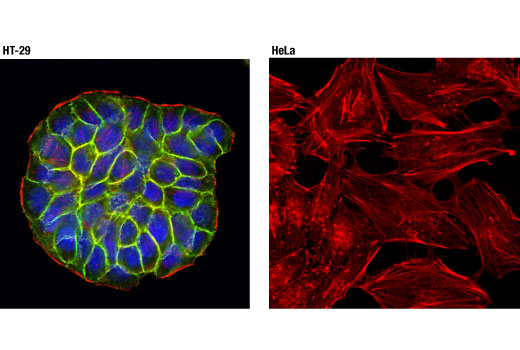 Confocal immunofluorescent analysis of HT-29 (left) and HeLa (right) cells using EpCAM (D4K8R) XP® Rabbit mAb (green). Actin filaments were labeled with DyLight™ 554 Phalloidin #13054 (red). Blue pseudocolor = DRAQ5® #4084 (fluorescent DNA dye). Note that EpCAM (D4K8R) XP® Rabbit mAb has been shown to detect its target protein on live, fixed, and fixed/permeabilized cells.
Background
Epithelial cell adhesion and activating molecule (EpCAM/CD326) is a transmembrane glycoprotein that mediates Ca2+-independent, homophilic adhesions on the basolateral surface of most epithelial cells. EpCAM is not expressed in adult squamous epithelium, but it is highly expressed in adeno and squamous cell carcinomas (1). Research studies identified EpCAM as one of the first tumor-associated antigens, and it has long been a marker of epithelial and tumor tissue. Investigators have shown that EpCAM is highly expressed in cancer cells (reviewed in 2,3).
Application References
Have you published research involving the use of our products? If so we'd love to hear about it. Please let us know!
Protocols
Companion Products
---
For Research Use Only. Not For Use In Diagnostic Procedures.
DRAQ5 is a registered trademark of Biostatus Limited.
DyLight is a trademark of Thermo Fisher Scientific, Inc. and its subsidiaries.
Cell Signaling Technology is a trademark of Cell Signaling Technology, Inc.
XP is a registered trademark of Cell Signaling Technology, Inc.
This product is provided under an intellectual property license from Life Technologies Corporation. The transfer of this product is contingent on the buyer using the purchased product solely in research, including use with HCS or other automated imaging applications but excluding use in combination with DNA microarrays. The buyer must not sell or otherwise transfer this product or its components for (a) diagnostic, therapeutic or prophylactic purposes; (b) testing, analysis or screening services, or information in return for compensation on a per-test basis; (c) manufacturing or quality assurance or quality control, or (d) resale, whether or not resold for use in research. For information on purchasing a license to this product for purposes other than as described above, contact Life Technologies Corporation, 5791 Van Allen Way, Carlsbad, CA 92008 USA or outlicensing@lifetech.com.
Cell Signaling Technology® is a trademark of Cell Signaling Technology, Inc.
用户评论 --- 共 0 条
该产品暂无评论!