Product Pathways - Adhesion
α-E-Catenin (D9R5E) Rabbit mAb #36611
PhosphoSitePlus ® protein, site, and accession data: CATENIN
Applications
Dilution
Species-Reactivity
Sensitivity
MW (kDa)
Isotype
W
1:1000
Human,
Endogenous
100
Rabbit IgG
IF-IC
1:800
Species cross-reactivity is determined by western blot.
Applications Key: W=Western Blotting, IF-IC=Immunofluorescence (Immunocytochemistry),
Specificity / Sensitivity
α-E-Catenin (D9R5E) Rabbit mAb recognizes endogenous levels of total α-E-catenin protein.
Source / Purification
Monoclonal antibody is produced by immunizing animals with a synthetic peptide corresponding to residues surrounding Ala885 of human α-E-Catenin protein.
IF-IC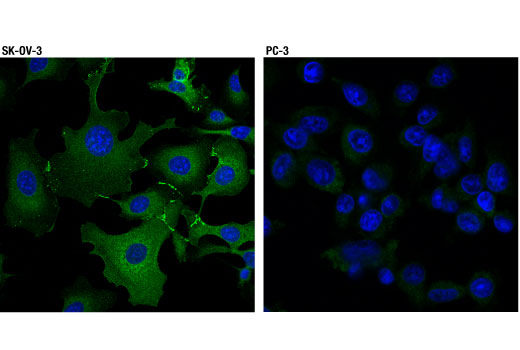 Confocal immunofluorescent analysis of SK-OV-3 (left) and PC-3 (right) cells, using α-E-Catenin (D9R5E) Rabbit mAb (green). Blue pseudocolor = DRAQ5® #4084 (fluorescent DNA dye).
Western Blotting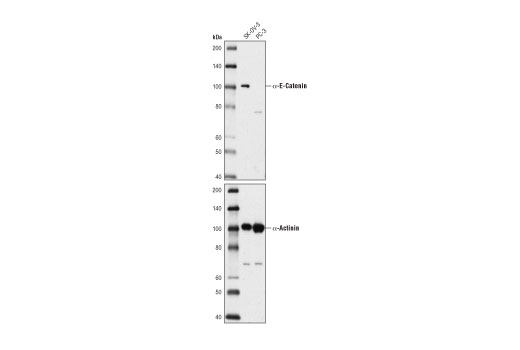 Western blot analysis of extracts from SK-OV-3 and PC-3 cells using α-E-catenin (D9R5E) Rabbit mAb (upper) or α-Actinin (D6F6) XP® Rabbit mAb (lower).
Background
Adherens junctions are dynamic structures that form cell-cell contacts and are important in development, differentiation, tissue integrity, morphology and cell polarity. They are composed of the transmembrane proteins, cadherins, which bind cadherins on adjacent cells in a calcium-dependent manner. On the cytoplasmic side of adherens junctions, the classic model states that cadherins are linked to the cytoskeleton through β- and α-catenin. α-E-catenin is ubiquitously expressed, α-N-catenin is expressed in neuronal tissue, and α-T-catenin is primarily expressed in heart tissue. Research studies have demonstrated that loss of E-cadherin and α-E-catenin occurs during the progression of several human cancers, indicating that the breakdown of adherens junctions is important in cancer progression (reviewed in 1).
Research studies also suggest that, rather than acting as a static link between cadherins and actin, α-catenin regulates actin dynamics directly, possibly by competing with the actin nucleating arp2/3 complex (2,3). α-catenin also plays a role in regulating β-catenin-dependent transcriptional activity, affecting differentiation and response to Wnt signaling. α-catenin binds to β-catenin in the nucleus, preventing it from regulating transcription, and levels of both proteins appear to be regulated via proteasome-dependent degradation (4).
Application References
Have you published research involving the use of our products? If so we'd love to hear about it. Please let us know!
Protocols
36611 :
Companion Products
---
For Research Use Only. Not For Use In Diagnostic Procedures.
DRAQ5 is a registered trademark of Biostatus Limited.
Cell Signaling Technology is a trademark of Cell Signaling Technology, Inc.
XP is a registered trademark of Cell Signaling Technology, Inc.
Tween is a registered trademark of ICI Americas, Inc.
Cell Signaling Technology® is a trademark of Cell Signaling Technology, Inc.
用户评论 --- 共 0 条
该产品暂无评论!