Product Pathways - Apoptosis
MLKL Antibody (Mouse Specific) #28640
PhosphoSitePlus ® protein, site, and accession data: MLKL
Applications
Dilution
Species-Reactivity
Sensitivity
MW (kDa)
Isotype
W
1:1000
Mouse,
Endogenous
54
Rabbit
IP
1:100
Species cross-reactivity is determined by western blot.
Applications Key: W=Western Blotting, IP=Immunoprecipitation,
Specificity / Sensitivity
MLKL Antibody (Mouse Specific) recognizes endogenous levels of total MLKL protein from mouse.
Source / Purification
Polyclonal antibodies are produced by immunizing animals with a synthetic peptide corresponding to residues near the carboxy terminus of mouse MLKL protein. Antibodies are purified by protein A and peptide affinity chromatography.
Western Blotting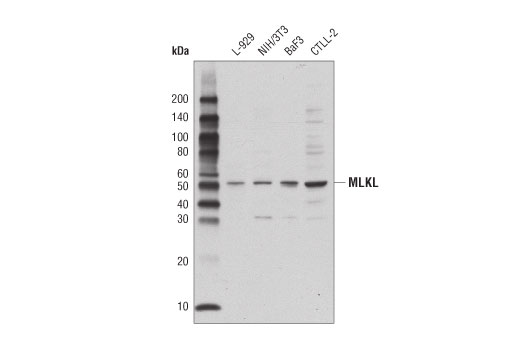 Western blot analysis of extracts from various cell lines using MLKL Antibody (Mouse Specific).
IP
Immunoprecipitation of MLKL from L-929 cell extracts. Lane 1 is 10% input, lane 2 is Normal Rabbit IgG #2729, and lane 3 is MLKL Antibody (Mouse Specific). Western blot was performed using MLKL Antibody (Mouse Specific). A conformation-specific secondary antibody was used to avoid cross reactivity with IgG.
Background
Necroptosis, a regulated pathway for necrotic cell death, is triggered by a number of inflammatory signals including cytokines in the tumor necrosis factor (TNF) family, pathogen sensors such as toll-like receptors (TLRs), and ischemic injury (1,2). The process is negatively regulated by caspases and is initiated through a complex containing the RIP1 and RIP3 kinases, typically referred to as the necrosome. Mixed lineage kinase domain-like protein (MLKL) is a pseudokinase that was identified as downstream target of RIP3 in the necroptosis pathway (3,4). During necroptosis RIP3 is phosphorylated at Ser227, which recruits MLKL and leads to its phosphorylation at Thr357 and Ser358 (3). Knockdown of MLKL through multiple mechanisms results in inhibition of necroptosis (3-5). While the precise mechanism for MLKL-induced necroptosis is unclear, some studies have shown that necroptosis leads to oligomerization of MLKL and translocation to the plasma membrane, where it effects membrane integrity (6-9).
Application References
Have you published research involving the use of our products? If so we'd love to hear about it. Please let us know!
Protocols
Companion Products
---
For Research Use Only. Not For Use In Diagnostic Procedures.
Cell Signaling Technology is a trademark of Cell Signaling Technology, Inc.
Tween is a registered trademark of ICI Americas, Inc.
Cell Signaling Technology® is a trademark of Cell Signaling Technology, Inc.
用户评论 --- 共 0 条
该产品暂无评论!