Product Pathways - Protein Stability
LRSAM1 (D1O5S) Rabbit mAb #28405
E3 ligases E3 Ubiquitin Ligases
PhosphoSitePlus ® protein, site, and accession data: LRSAM1
| Applications | Dilution | Species-Reactivity | Sensitivity | MW (kDa) | Isotype |
| --- | --- | --- | --- | --- | --- |
| W | 1:1000 | Human,Mouse,Rat,Monkey, | Endogenous | 84 | Rabbit IgG |
Species cross-reactivity is determined by western blot.
Applications Key: W=Western Blotting,
Specificity / Sensitivity
LRSAM1 (D1O5S) Rabbit mAb recognizes endogenous levels of total LRSAM1 protein.
Source / Purification
Monoclonal antibody is produced by immunizing animals with a synthetic peptide corresponding to residues surrounding Pro143 of human LRSAM1 protein.
Western Blotting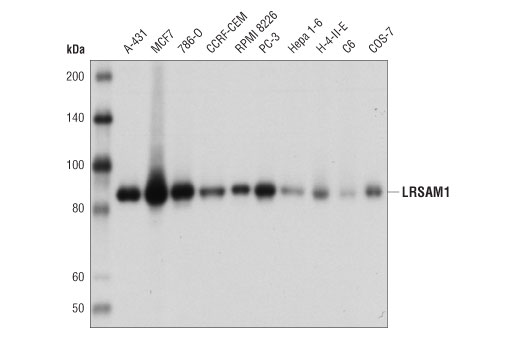 Western blot analysis of extracts from various cell lines using LRSAM1 (D1O5S) Rabbit mAb.
Background
Leucine-rich repeat and sterile alpha motif-containing protein 1 (LRSAM1, hTAL1) is a multi-domain-containing E3 ubiquitin-ligase involved in the regulation of cell adhesion. The LSRAM1 protein contains amino-terminal leucine-rich repeats (LRR), an ezrin-radixin-moesin (ERM) domain, a coiled-coil region, a sterile alpha motif (SAM) domain, and a carboxy-terminal RING finger domain. Research studies demonstrate that LRSAM1 participates in the endosomal sorting of proteins by regulating the ubiquitination of Tsg101, a component of the ESCRT-I endosomal sorting complex (1). LSRAM1 ubiquitin ligase activity plays a critical role in promoting the ubiquitin-dependent autophagic clearance of pathogenic bacteria (2). Mutations in the corresponding LRSAM1 gene can contribute to a form of Charcot-Marie-Tooth (CMT2P) disease that is characterized by peripheral nervous system axonal neuropathy (3,4).
Application References
Have you published research involving the use of our products? If so we'd love to hear about it. Please let us know!
Protocols
28405 :
Companion Products
---
For Research Use Only. Not For Use In Diagnostic Procedures.
Cell Signaling Technology is a trademark of Cell Signaling Technology, Inc.
Tween is a registered trademark of ICI Americas, Inc.
Cell Signaling Technology® is a trademark of Cell Signaling Technology, Inc.
用户评论 --- 共 0 条
该产品暂无评论!