Product Pathways - Metabolism
Myoglobin (D2F5X) Rabbit mAb #25919
PhosphoSitePlus ® protein, site, and accession data: MB
Applications
Dilution
Species-Reactivity
Sensitivity
MW (kDa)
Isotype
W
1:1000
Human,Mouse,
Endogenous
17
Rabbit IgG
IF-F
1:400
Species cross-reactivity is determined by western blot.
Applications Key: W=Western Blotting, IF-F=Immunofluorescence (Frozen),
Specificity / Sensitivity
Myoglobin (D2F5X) Rabbit mAb recognizes endogenous levels of total myoglobin protein.
Source / Purification
Monoclonal antibody is produced by immunizing animals with a synthetic peptide corresponding to residues surrounding Leu50 of human myoglobin protein.
IF-F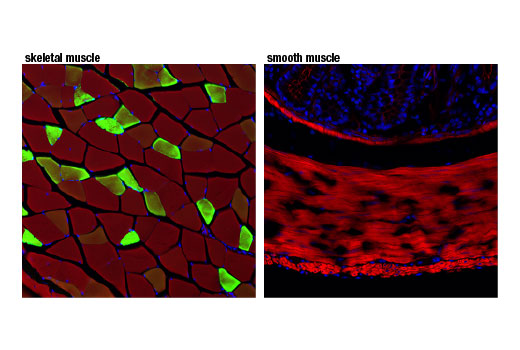 Confocal immunofluorescent analysis of mouse skeletal (left) or smooth (right) muscle using Myoglobin (D2F5X) Rabbit mAb (green). Actin filaments were labeled with DyLight™ 554 Phalloidin #13054 (red). Blue pseudocolor = DRAQ5® #4084 (fluorescent DNA dye).
Background
Myoglobin (MB) is an oxygen-binding protein that contains one polypeptide chain and one heme group. It is expressed in vertebrate skeletal and cardiac muscles where it plays an essential role in the storage and transport of oxygen to mitochondria. Reversible oxygen binding occurs by a linkage with the imidazole nitrogen of the 91st histidine residue in the myoglobin chain. Research studies indicate that the blockade of myoglobin in isolated cardiac myocytes mimics hypoxia when electrically stimulated for paced contractions (1). During fetal development, myoglobin is required to support cardiac function (2). Diving mammals are known to have high concentrations of myoglobin in their blood, which may contribute to their ability to endure long periods of oxygen deprivation during deep dives (3).
Application References
Have you published research involving the use of our products? If so we'd love to hear about it. Please let us know!
Protocols
25919 :
Companion Products
---
For Research Use Only. Not For Use In Diagnostic Procedures.
DRAQ5 is a registered trademark of Biostatus Limited.
DyLight is a trademark of Thermo Fisher Scientific, Inc. and its subsidiaries.
Cell Signaling Technology is a trademark of Cell Signaling Technology, Inc.
Tween is a registered trademark of ICI Americas, Inc.
Cell Signaling Technology® is a trademark of Cell Signaling Technology, Inc.
用户评论 --- 共 0 条
该产品暂无评论!