Product Pathways - Apoptosis
DR3 (D4O3X) Rabbit mAb #20772
PhosphoSitePlus ® protein, site, and accession data: DR3
| Applications | Dilution | Species-Reactivity | Sensitivity | MW (kDa) | Isotype |
| --- | --- | --- | --- | --- | --- |
| W | 1:1000 | Human, | Endogenous | 55-60 | Rabbit IgG |
Species cross-reactivity is determined by western blot.
Applications Key: W=Western Blotting,
Homology
Species predicted to react based on 100% sequence homology: Mouse, Rat,
Specificity / Sensitivity
DR3 (D4O3X) Rabbit mAb recognizes endogenous levels of total DR3 protein. A band of unknown origin is detected at at 110 kDa in some cell lines.
Source / Purification
Monoclonal antibody is produced by immunizing animals with a synthetic peptide corresponding to residues surrounding Leu335 of human DR3 protein. The antigen resides within the cytoplasmic domain of DR3.
Western Blotting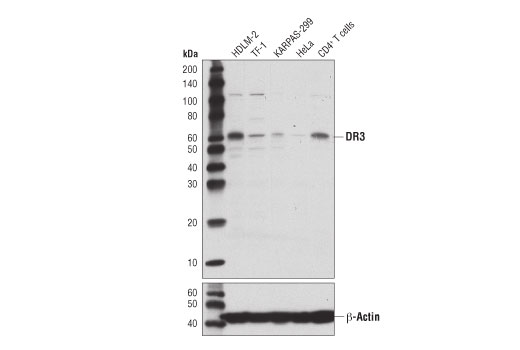 Western blot analysis of various cell lines using DR3 (D4O3X) Rabbit mAb (upper), or β-Actin (D6A8) Rabbit mAb #8457 (lower). KARPAS cell line source: Dr. Abraham Kapas at the University of Cambridge.
Background
The tumor necrosis factor receptor family, which includes TNF-RI, Fas, DR3, DR4, DR5, and DR6, plays an important role in the regulation of apoptosis in various physiological systems (1,2). The receptors are activated by a family of cytokines that include TNF, FasL, and TRAIL. They are characterized by a highly conserved extracellular region containing cysteine-rich repeats and a conserved intracellular region of about 80 amino acids termed the death domain (DD). The DD is important for transducing the death signal by recruiting other DD containing adaptor proteins (FADD, TRADD, RIP) to the death-inducing signaling complex (DISC), resulting in activation of caspases.
DR3/WSL-1/Apo-3/TRAMP/LARD is a TNFR family member containing the characteristic extracellular cysteine-repeats, transmembrane region, and an intracellular DD (3-7). DR3 is activated by its ligand Apo-3L/TWEAK to induce apoptosis and activation of NF-κB (8,9). Like TNF-R1, DR3 binds to the DD adaptor protein TRADD, which can then associate with other DD proteins like FADD and RIP as well as members of the TRAF family (3,4). Tissue expression of DR3 is very restricted, primarily seen on the surface of activated thymocytes and lymphocytes and plays an important role in thymocyte negative selection (3,4,10). Studies have also indicated an association with DR3 and rheumatoid arthritis (11,12).
Application References
Have you published research involving the use of our products? If so we'd love to hear about it. Please let us know!
Protocols
20772 :
Companion Products
---
For Research Use Only. Not For Use In Diagnostic Procedures.
Cell Signaling Technology is a trademark of Cell Signaling Technology, Inc.
Tween is a registered trademark of ICI Americas, Inc.
KARPAS cell line source: Dr. Abraham Karpas at the University of Cambridge.
Cell Signaling Technology® is a trademark of Cell Signaling Technology, Inc.
用户评论 --- 共 0 条
该产品暂无评论!