Product Pathways - Neuroscience
Nav1.1 (D8X1Y) Rabbit mAb #18339
PhosphoSitePlus ® protein, site, and accession data: SCN1A
Applications
Dilution
Species-Reactivity
Sensitivity
MW (kDa)
Isotype
W
1:1000
Human,Mouse,Rat,
Endogenous
250
Rabbit IgG
IP
1:50
Species cross-reactivity is determined by western blot.
Applications Key: W=Western Blotting, IP=Immunoprecipitation,
Specificity / Sensitivity
Nav1.1 (D8X1Y) Rabbit mAb recognizes endogenous levels of total Nav1.1 protein.
Source / Purification
Monoclonal antibody is produced by immunizing animals with a synthetic peptide corresponding to residues surrounding Arg471 of human Nav1.1 protein.
Western Blotting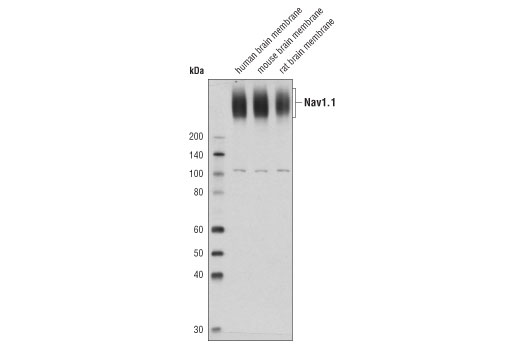 Western blot analysis of membrane extracts from human, mouse and rat brain using Nav1.1 (D8X1Y) Rabbit mAb.
Background
Voltage gated sodium channels are composed of a large alpha subunit and auxiliary beta subunits. The alpha subunit has 4 homologous domains, with each domain containing 6 transmembrane segments. These segments function as the voltage sensor and sodium permeable pore. Upon change of membrane potential, the sodium channel is activated, which allows sodium ions to flow through (1,2). When associated with beta subunits or other accessory proteins, the alpha subunit is regulated at the level of cell surface expression, kinetics, and voltage dependence (3,4).
There are 9 mammalian alpha subunits, named Nav1.1-Nav1.9 (5). These alpha subunits differ in tissue specificity and biophysical functions (6,7). Seven of these subunits are essential for the initiation and propagation of action potentials in the central and peripheral nervous system while Nav1.4 and Nav1.5 are mainly expressed in skeletal muscle and cardiac muscle (8,9). Mutations in these alpha channel subunits have been identified in patients with epilepsy, seizure, ataxia, sensitivity to pain, and cardiomyopathy (reviewed in 10).
Nav1.1 is a type I alpha subunit and is mainly expressed in brain and peripheral nerves. Mutations in the Nav1.1 encoding gene, SCN1A, are associated with a wide spectrum of childhood epilepsies, including generalized epilepsy with febrile seizures plus (11) and Dravet syndrome (12,13)
Application References
Have you published research involving the use of our products? If so we'd love to hear about it. Please let us know!
Protocols
Companion Products
---
For Research Use Only. Not For Use In Diagnostic Procedures.
Cell Signaling Technology is a trademark of Cell Signaling Technology, Inc.
XP is a registered trademark of Cell Signaling Technology, Inc.
Tween is a registered trademark of ICI Americas, Inc.
Cell Signaling Technology® is a trademark of Cell Signaling Technology, Inc.
用户评论 --- 共 0 条
该产品暂无评论!