Product Pathways - Neuroscience
TRPC6 (D3G1Q) Rabbit mAb #16716
PhosphoSitePlus ® protein, site, and accession data: TRPC6
Applications
Dilution
Species-Reactivity
Sensitivity
MW (kDa)
Isotype
W
1:1000
Human,Mouse,Rat,
Endogenous
110
Rabbit IgG
IP
1:50
Species cross-reactivity is determined by western blot.
Applications Key: W=Western Blotting, IP=Immunoprecipitation,
Specificity / Sensitivity
TRPC6 (D3G1Q) Rabbit mAb recognizes endogenous levels of total TRPC6 protein.
Source / Purification
Monoclonal antibody is produced by immunizing animals with a synthetic peptide corresponding to residues near the amino terminus of human TRPC6 protein.
Western Blotting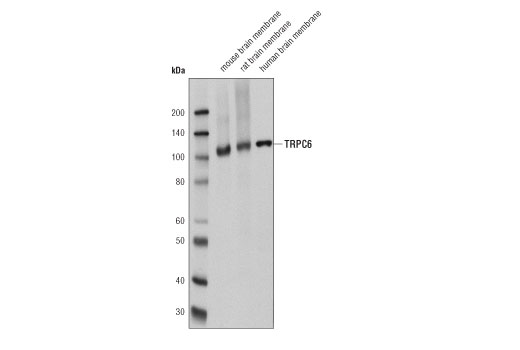 Western blot analysis of membrane extracts from mouse, rat and human brain using TRPC6 (D3G1Q) Rabbit mAb.
Background
Transient receptor potential (TRP) canonical 6 (TRPC6) belongs to the superfamily of TRP cation channels. The TRPC subfamily (TRPC1-7) is a group of calcium-permeable cation channels that mediates the increase in intracellular [Ca2+] following activation by G-protein-coupled receptors or receptor tyrosine kinases (1). TRPC6 is directly activated by diacylglycerol (DAG) (2). Various tissues express TRPC6, including brain, lung, kidney, ovary and small intestine. TRPC6 exerts a variety of biological functions in various tissues. In brain, TRPC6 plays important roles in synaptic plasticity, spatial cognition (3) and protects neurons from ischemic excitotoxicity (4). In kidney, TRPC6 is expressed in mesangial cells and podocytes of renal glomeruli (5) and regulates glomerular filtration (6). Mutations in TRPC6 gene cause autosomal dominant focal segmental glomerulosclerosis (7). In smooth muscle cells, TRPC6 mediates Na+ influx followed by Ca2+ entry via Na+/Ca2+ -exchanger (NCX) reversal which leads to contraction (8, 9).
Application References
Have you published research involving the use of our products? If so we'd love to hear about it. Please let us know!
Protocols
Companion Products
---
For Research Use Only. Not For Use In Diagnostic Procedures.
Cell Signaling Technology is a trademark of Cell Signaling Technology, Inc.
XP is a registered trademark of Cell Signaling Technology, Inc.
Tween is a registered trademark of ICI Americas, Inc.
Cell Signaling Technology® is a trademark of Cell Signaling Technology, Inc.
用户评论 --- 共 0 条
该产品暂无评论!