Product Pathways - Tag Antibodies
SV40 Large T Antigen (D1E9E) Rabbit mAb #15729
PhosphoSitePlus ® protein, site, and accession data: SV40 LARGE T ANTIGEN
Applications
Dilution
Species-Reactivity
Sensitivity
MW (kDa)
Isotype
W
1:1000
All Species Expected,
Recombinant
90
Rabbit IgG
IP
1:50
IF-IC
1:200
Species cross-reactivity is determined by western blot.
Applications Key: W=Western Blotting, IP=Immunoprecipitation, IF-IC=Immunofluorescence (Immunocytochemistry),
Specificity / Sensitivity
SV40 Large T Antigen (D1E9E) Rabbit mAb recognizes transgenic levels of total SV40 Large T Antigen protein.
Source / Purification
Monoclonal antibody is produced by immunizing animals with a synthetic peptide corresponding to residues surrounding Lys315 of SV40 Large T Antigen protein.
IF-IC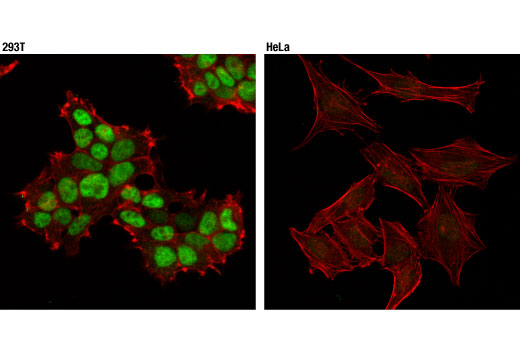 Confocal immunofluorescent analysis of 293T (positive, left) and HeLa (negative, right) cells, using SV40 Large T antigen (D1E9E) Rabbit mAb (green). Actin filaments were labeled with DyLight™ 554 Phalloidin #13054 (red).
Background
Simian Virus 40 (SV40) is a small double-stranded, circular DNA tumor virus encoding three tumor antigens: large T, Small T, and 17KT. These antigens contribute to cellular transformation, an area of research where they are utilized extensively. Transformation of cells by SV40 large T antigen is mediated by its binding to the tumor suppressor proteins RB and p53 in the nucleus. Additional binding partners include p300, CBP, Cul7, IRS1, Bub1, Nbs1, and Fbw7, which also contribute to transformation (1).
Application References
Have you published research involving the use of our products? If so we'd love to hear about it. Please let us know!
Protocols
Companion Products
---
For Research Use Only. Not For Use In Diagnostic Procedures.
DyLight is a trademark of Thermo Fisher Scientific, Inc. and its subsidiaries.
Cell Signaling Technology is a trademark of Cell Signaling Technology, Inc.
Tween is a registered trademark of ICI Americas, Inc.
Cell Signaling Technology® is a trademark of Cell Signaling Technology, Inc.
用户评论 --- 共 0 条
该产品暂无评论!