Product Pathways - Cytoskeletal Signaling
α-Actinin 4 (D7U5A) Rabbit mAb  #15145
PhosphoSitePlus ® protein, site, and accession data: ACTN4
| Applications | Dilution | Species-Reactivity | Sensitivity | MW (kDa) | Isotype |
| --- | --- | --- | --- | --- | --- |
| W | 1:1000 | Human,Mouse,Rat, | Endogenous | 100 | Rabbit IgG |
Species cross-reactivity is determined by western blot.
Applications Key: W=Western Blotting,
Specificity / Sensitivity
α-Actinin 4 (D7U5A) Rabbit mAb recognizes endogenous levels of total α-actinin 4 protein. This antibody does not cross-react with other α-actinin proteins.
Source / Purification
Monoclonal antibody is produced by immunizing animals with a synthetic peptide corresponding to residues surrounding Ala6 of human α-actinin 4 protein.
Western Blotting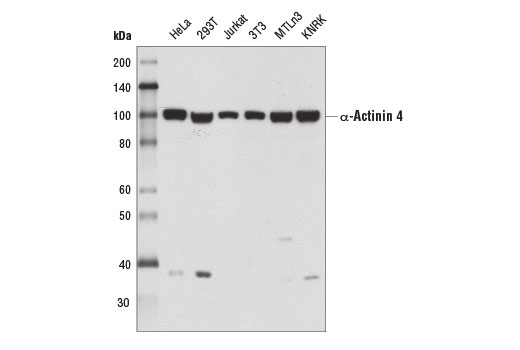 Western blot analysis of extracts from various cell lines using α-Actinin 4 (D7U5A) Rabbit mAb.
Background
α-Actinin belongs to the spectrin family of cytoskeletal proteins. It was first recognized as an actin cross-linking protein, forming an antiparallel homodimer with an actin binding head at the amino terminus of each monomer. The α-actinin protein interacts with a large number of proteins involved in signaling to the cytoskeleton, including those involved in cellular adhesion, migration, and immune cell targeting (1). The interaction of α-actinin with intercellular adhesion molecule-5 (ICAM-5) helps to promote neurite outgrowth (2). In osteoblasts, interaction of α-actinin with integrins stabilizes focal adhesions and may protect cells from apoptosis (3). The cytoskeletal α-actinin isoforms 1 and 4 (ACTN1, ACTN4) are non-muscle proteins that are present in stress fibers, sites of adhesion and intercellular contacts, filopodia, and lamellipodia. The muscle isoforms 2 and 3 (ACTN2, ACTN3) localize to the Z-discs of striated muscle and to dense bodies and plaques in smooth muscle (1).
The ubiquitously expressed α-actinin 4 (ACTN4) protein typically localizes to the cytoskeleton but extracellular stimuli will prompt nuclear translocation in some cells (4). Research studies suggest that ACTN4 can mediate cell signaling and regulate gene expression as a transcriptional coactivator (5,6). Increased expression of ACTN4 protein and amplification of the ACTN4 gene are seen in many cancers and correlates with poor prognosis and metastasis (7). Mutations in the corresponding ACTN4 gene are responsible for focal segmental glomerulosclerosis (FSGS1), a severe renal disorder characterized by reduced kidney function, proteinuria, and progressive kidney failure (8).
Application References
Have you published research involving the use of our products? If so we'd love to hear about it. Please let us know!
Protocols
15145 :
---
For Research Use Only. Not For Use In Diagnostic Procedures.
Cell Signaling Technology is a trademark of Cell Signaling Technology, Inc.
Tween is a registered trademark of ICI Americas, Inc.
Cell Signaling Technology® is a trademark of Cell Signaling Technology, Inc.
用户评论 --- 共 0 条
该产品暂无评论!