Product Pathways - Neuroscience
RGS4 (D4V1P) Rabbit mAb #15129
PhosphoSitePlus ® protein, site, and accession data: RGS4
Applications
Dilution
Species-Reactivity
Sensitivity
MW (kDa)
Isotype
W
1:1000
Human,Mouse,Rat,
Endogenous
25
Rabbit IgG
IP
1:50
Species cross-reactivity is determined by western blot.
Applications Key: W=Western Blotting, IP=Immunoprecipitation,
Specificity / Sensitivity
RGS4 (D4V1P) Rabbit mAb recognizes endogenous levels of total RGS4 protein.
Source / Purification
Monoclonal antibody is produced by immunizing animals with recombinant protein specific to the amino terminus of human RGS4 protein.
Western Blotting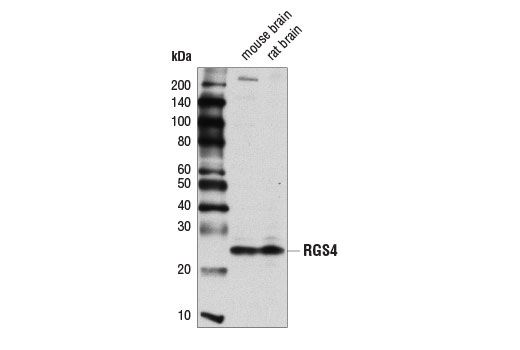 Western blot analysis of extracts from mouse brain and rat brain using RGS4 (D4V1P) Rabbit mAb.
Background
Regulators of G protein signaling (RGS) are a family of about 40 proteins that determine the signaling amplitude and duration of G protein-coupled receptor signaling via modulation of the GTPase activity of G proteins (1-3). Each RGS has a distinct structure, expression pattern, and regulation, resulting in preferential interactions with receptors, G proteins, and other signaling proteins, as well as a unique function (4).
Regulator of G-protein signaling 4 (RGS4) is a small RGS (23 kDa) that belongs to the R4 subfamily of heterotrimeric G-protein regulators. RGS4 contains a short amino-terminus that may be responsible for its functional specificity towards G-protein-coupled receptors, and a conserved RGS domain responsible for GAP activity (1). The RGS4 protein shares activity at both Gαq and Gαi/o proteins (5,6). Degradation of RGS4 is regulated by opioid receptor-mediated ubiquitination following stimulation by opioid receptor agonists, such as the DAMGO synthetic opioid peptide (7). RGS4 modulates the action of morphine and other opiates in vivo (8).
Application References
Have you published research involving the use of our products? If so we'd love to hear about it. Please let us know!
Protocols
Companion Products
---
For Research Use Only. Not For Use In Diagnostic Procedures.
Cell Signaling Technology is a trademark of Cell Signaling Technology, Inc.
Tween is a registered trademark of ICI Americas, Inc.
Cell Signaling Technology® is a trademark of Cell Signaling Technology, Inc.
用户评论 --- 共 0 条
该产品暂无评论!