Product Pathways - Lymphocyte Signaling
CTLA-4 (D4E9I) Rabbit mAb #15119
CD278 CTLA-4 CTLA4 Cytotoxic T-lymphocyte protein 4
| Applications | Dilution | Species-Reactivity | Sensitivity | MW (kDa) | Isotype |
| --- | --- | --- | --- | --- | --- |
| F | 1:200 | Human, | Endogenous | 30 | Rabbit IgG |
Species cross-reactivity is determined by western blot.
Applications Key: F=Flow Cytometry,
Specificity / Sensitivity
CTLA-4 (D4E9I) Rabbit mAb recognizes endogenous levels of total CTLA-4 protein.
Source / Purification
Monoclonal antibody is produced by immunizing animals with a synthetic peptide corresponding to residues surrounding Asp100 of human CTLA-4 protein.
Flow Cytometry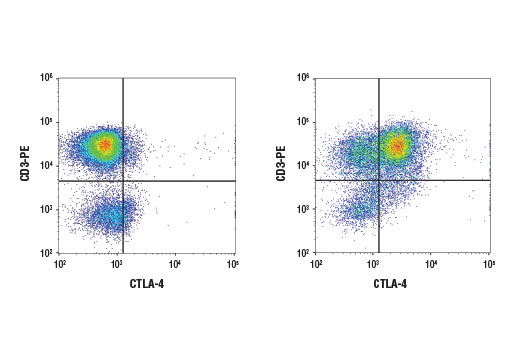 Flow cytometric analysis of human peripheral blood mononuclear cells, untreated (left) or PHA-treated (1 ug/ml, 72 hr; right), using CTLA-4 (D4E9I) Rabbit mAb and co-stained with a CD3 antibody. Anti-rabbit IgG (H+L), F(ab')2 Fragment (Alexa Fluor® 647 Conjugate) #4414 was used as a secondary antibody. Analysis was performed on cells in the lymphocyte gate.
Background
Cytotoxic T-lymphocyte protein 4 (CTLA-4, CD152) is an Ig superfamily member that negatively regulates early T-cell activation (1-4). The CTLA-4 protein is primarily expressed on T-cells, including CD8+ cytotoxic T-cells, CD4+ helper T-cells, and CD4+/FoxP3+ regulatory T-cells (1,2). CTLA-4 protein competes with CD28 for B7.1 (CD80) and B7.2 (CD86) binding at the cell surface, which results in the down regulation of T-cell activity (5). The activation of SHP-2 and PP2A downstream of CTLA-4 attenuates TCR signaling (6). Research studies indicate that CTLA4 knockout mice display lymphoproliferative disorders leading to early death, confirming the role of CTLA-4 as a negative regulator of T-cells (7). Mutations in the corresponding CTLA4 gene are associated with multiple disorders, including insulin-dependent diabetes mellitus, Graves disease, Hashimoto thyroiditis, celiac disease, systemic lupus erythematosus, and type V autoimmune lymphoproliferative syndrome (8,9). Additional studies demonstrate that CTLA-4 blockade is an effective strategy for tumor immunotherapy (10-12).
Application References
Have you published research involving the use of our products? If so we'd love to hear about it. Please let us know!
Protocols
15119 :
---
For Research Use Only. Not For Use In Diagnostic Procedures.
Cell Signaling Technology is a trademark of Cell Signaling Technology, Inc.
Alexa Fluor is a registered trademark of Life Technologies Corporation.
Cell Signaling Technology® is a trademark of Cell Signaling Technology, Inc.
用户评论 --- 共 0 条
该产品暂无评论!