Product Pathways - Transcription Factors
IRF-4 (D9P5H) Rabbit mAb #15106
PhosphoSitePlus ® protein, site, and accession data: IRF4
Applications
Dilution
Species-Reactivity
Sensitivity
MW (kDa)
Isotype
W
1:1000
Human,Mouse,Rat,
Endogenous
51
Rabbit IgG
IP
1:200
ChIP
1:100
Species cross-reactivity is determined by western blot.
Applications Key: W=Western Blotting, IP=Immunoprecipitation, ChIP=Chromatin IP,
Specificity / Sensitivity
IRF-4 (D9P5H) Rabbit mAb recognizes endogenous levels of total IRF-4 protein.
Source / Purification
Monoclonal antibody is produced by immunizing animals with mouse IRF-4 recombinant protein.
Western Blotting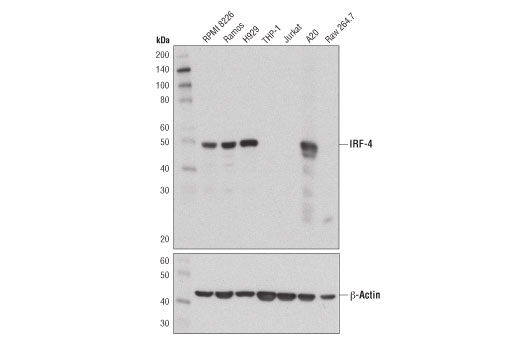 Western blot analysis of extracts from various cell lines using IRF-4 (D9P5H) Rabbit mAb (upper) or β-Actin (D6A8) Rabbit mAb #8457 (lower).
IP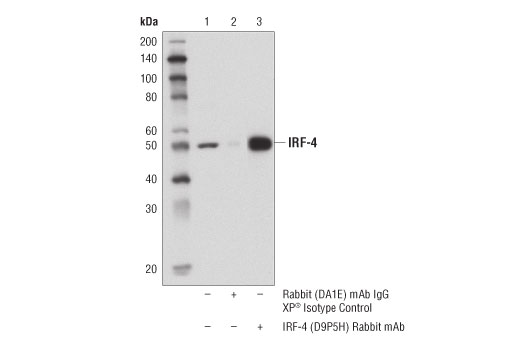 Immunoprecipitation of IRF-4 from RPMI 8226 cell extracts. Lane 1 is 10% input, lane 2 is Rabbit (DA1E) mAb IgG XP® Isotype Control #3900, and lane 3 is IRF-4 (D9P5H) Rabbit mAb. Western blot analysis was performed using IRF-4 (D9P5H) Rabbit mAb.
Chromatin IP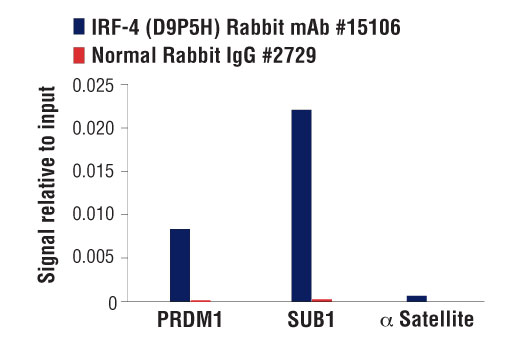 Chromatin immunoprecipitations were performed with cross-linked chromatin from 4 x 106 H929 cells and either 10 μl of IRF-4 (D9P5H) Rabbit mAb or 2 μl of Normal Rabbit IgG #2729 using SimpleChIP® Enzymatic Chromatin IP Kit (Magnetic Beads) #9003. The enriched DNA was quantified by real-time PCR using human PRDM1 Exon 2 primers, SimpleChIP® Human SUB1 Promoter Primers #5156 and SimpleChIP® Human α Satellite Repeat Primers #4486. The amount of immunoprecipitated DNA in each sample is represented as signal relative to the total amount of input chromatin, which is equivalent to one.
Background
Interferon regulatory factors (IRFs) comprise a family of transcription factors that function within the Jak/Stat pathway to regulate interferon (IFN) and IFN-inducible gene expression in response to viral infection (1). IRFs play an important role in pathogen defense, autoimmunity, lymphocyte development, cell growth, and susceptibility to transformation. The IRF family includes nine members: IRF-1, IRF-2, IRF-9/ISGF3γ, IRF-3, IRF-4 (Pip/LSIRF/ICSAT), IRF-5, IRF-6, IRF-7, and IRF-8/ICSBP. All IRF proteins share homology in their amino-terminal DNA-binding domains. IRF family members regulate transcription through interactions with proteins that share similar DNA-binding motifs, such as IFN-stimulated response elements (ISRE), IFN consensus sequences (ICS), and IFN regulatory elements (IRF-E) (2).
IRF-4 was independently cloned by three groups and demonstrated to have roles in different contexts of lymphoid regulation (3-5). First, IRF-4 (Pip) was found to associate with PU.1, a hematopoietic specific member of the ETS family, and to regulate the expression of B-cell specific genes (3). Second, it was characterized as a lymphoid-specific member of the IRF family (LSIRF) able to bind to ISRE (4). Third, it was identified in activated T cells as a factor that binds to the promoter of the interleukin-5 gene (ICSAT), and shown to repress gene activation induced by IFN (5). IRF-4 is expressed in all stages of B cell development and in mature T cells, and is inducible in primary lymphocytes by antigen mimetic stimuli such as concavalin A, CD3 crosslinking, anti-IgM and PMA treatment (4,5). Mice deficient in IRF-4 show normal distribution of B and T lymphocytes at 4 to 5 weeks, but later develop progressive generalized lymphadenopathy, suggesting a role for IRF-4 in the function and homeostasis of mature B- and T-lymphocytes (6).
Application References
Have you published research involving the use of our products? If so we'd love to hear about it. Please let us know!
Protocols
Companion Products
---
For Research Use Only. Not For Use In Diagnostic Procedures.
XP is a registered trademark of Cell Signaling Technology, Inc.
SimpleChIP is a registered trademark of Cell Signaling Technology, Inc.
Tween is a registered trademark of ICI Americas, Inc.
Cell Signaling Technology® is a trademark of Cell Signaling Technology, Inc.
用户评论 --- 共 0 条
该产品暂无评论!