Product Pathways - Innate Immunity
cGAS (D1D3G) Rabbit mAb #15102
PhosphoSitePlus ® protein, site, and accession data: FLJ39829
| Applications | Dilution | Species-Reactivity | Sensitivity | MW (kDa) | Isotype |
| --- | --- | --- | --- | --- | --- |
| W | 1:1000 | Human, | Endogenous | 62 | Rabbit IgG |
Species cross-reactivity is determined by western blot.
Applications Key: W=Western Blotting,
Specificity / Sensitivity
cGAS (D1D3G) Rabbit mAb recognizes endogenous levels of total cGAS protein.
Source / Purification
Monoclonal antibody is produced by immunizing animals with a synthetic peptide corresponding to residues surrounding Ala19 of human cGAS protein.
Western Blotting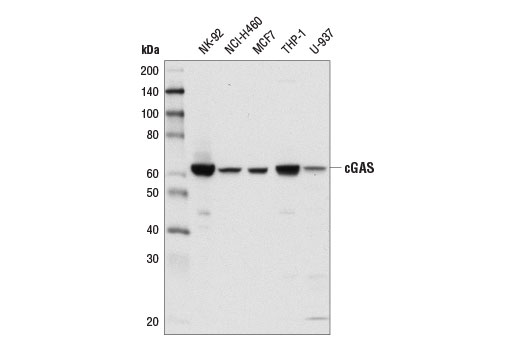 Western blot analysis of extracts from various cell lines using cGAS (D1D3G) Rabbit mAb.
Background
Cyclic GMP-AMP synthase (cGAS, MB21D1) is an antiviral enzyme that produces the second messenger cyclic-GMP-AMP (cGAMP) in response to cytoplasmic DNA (1,2). The cGAS protein acts as a cytosolic DNA sensor that binds DNA and produces the cGAMP second messenger from ATP and GTP (1,2). cGAMP binds to and activates STING, a transmembrane adaptor protein that is a critical component of the cellular innate immune response to pathogenic cytoplasmic DNA (1-4). STING is ubiquitously expressed and found predominantly in the ER (3). Following activation, STING translocates with TBK1 to perinuclear endosomes (5). The TBK1 kinase phosphorylates and activates interferon regulatory factors (IRFs) and NF-κB, which leads to the induction of type I interferon and other immune response genes (3-5).
Application References
Have you published research involving the use of our products? If so we'd love to hear about it. Please let us know!
Protocols
15102 :
Companion Products
---
For Research Use Only. Not For Use In Diagnostic Procedures.
Cell Signaling Technology is a trademark of Cell Signaling Technology, Inc.
Tween is a registered trademark of ICI Americas, Inc.
Cell Signaling Technology® is a trademark of Cell Signaling Technology, Inc.
用户评论 --- 共 0 条
该产品暂无评论!