Product Pathways - Vesicle Trafficking
HRS (D7T5N) Rabbit mAb #15087
ESCRT ESCRT-0 HGS HRS sc-271925
PhosphoSitePlus ® protein, site, and accession data: HGS
Applications
Dilution
Species-Reactivity
Sensitivity
MW (kDa)
Isotype
W
1:1000
Human,Mouse,Monkey,
Endogenous
100
Rabbit IgG
IP
1:100
IF-IC
1:400
Species cross-reactivity is determined by western blot.
Applications Key: W=Western Blotting, IP=Immunoprecipitation, IF-IC=Immunofluorescence (Immunocytochemistry),
Homology
Species predicted to react based on 100% sequence homology: Bovine, Dog,
Specificity / Sensitivity
HRS (D7T5N) Rabbit mAb recognizes endogenous levels of total HRS protein.
Source / Purification
Monoclonal antibody is produced by immunizing animals with a synthetic peptide corresponding to residues near the carboxy terminus of human HRS protein.
Western Blotting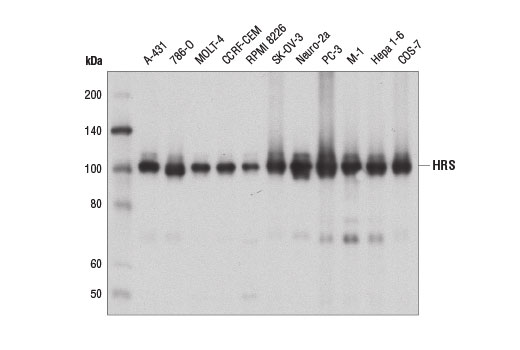 Western blot analysis of extracts from various cell lines using HRS (D7T5N) Rabbit mAb.
IP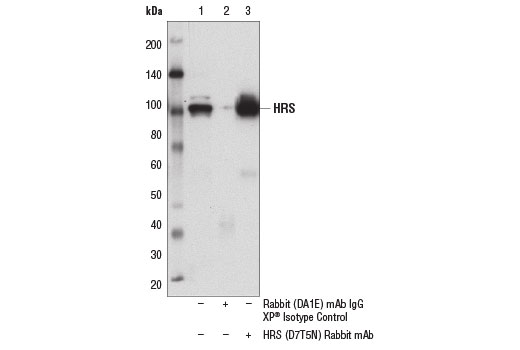 Immunoprecipitation of HRS from 293T cell extracts using Rabbit (DA1E) mAb IgG XP® Isotype Control #3900 (lane 2) or HRS (D7T5N) Rabbit mAb (lane 3). Lane 1 is 10% input. Western blot analysis was performed using HRS (D7T5N) Rabbit mAb.
IF-IC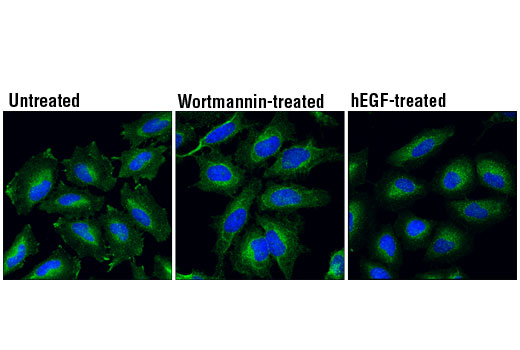 Confocal immunofluorescent analysis of HeLa cells, untreated (left), treated with wortmannin #9951 (100 nM for 30 min, center) or treated with Human Epidermal Growth Factor (hEGF) #8916 (100 ng/ml for 10 min, right) using HRS (D7T5N) Rabbit mAb (green). Blue pseudocolor = DRAQ5® #4084 (fluorescent DNA dye).
Background
Hepatocyte growth factor-regulated tyrosine kinase substrate (HRS) is a ubiquitously expressed, multidomain-containing protein that is tyrosine phosphorylated upon activation of multiple receptor tyrosine kinases (1). HRS contains a proline-rich region, which may mediate interactions with SH3 domain-containing proteins (1). Research studies have also demonstrated that HRS possesses a phosphatidylinositol 3-phosphate-binding FYVE-type zinc finger domain and a coiled-coil domain that target it to membranes of the endosomal compartment (2-4). HRS also possesses a ubiquitin-interacting motif (UIM) that binds ubiquitinated membrane proteins and, in conjunction with Eps15 and STAM proteins of the ESCRT-0 complex, facilitates their sorting through the endosomal compartment for eventual degradation in the lysosome (5-8). Research studies demonstrate that phosphorylation and ubiquitination of HRS play a role in EGFR intracellular trafficking and degradation (9,10).
Application References
Have you published research involving the use of our products? If so we'd love to hear about it. Please let us know!
Protocols
Companion Products
---
For Research Use Only. Not For Use In Diagnostic Procedures.
DRAQ5 is a registered trademark of Biostatus Limited.
Cell Signaling Technology is a trademark of Cell Signaling Technology, Inc.
XP is a registered trademark of Cell Signaling Technology, Inc.
Tween is a registered trademark of ICI Americas, Inc.
Cell Signaling Technology® is a trademark of Cell Signaling Technology, Inc.
用户评论 --- 共 0 条
该产品暂无评论!