Product Pathways - Ca / cAMP / Lipid Signaling
MCU (D2Z3B) Rabbit mAb #14997
PhosphoSitePlus ® protein, site, and accession data: CCDC109A
Applications
Dilution
Species-Reactivity
Sensitivity
MW (kDa)
Isotype
W
1:1000
Human,Mouse,Rat,Monkey,
Endogenous
30
Rabbit IgG
IP
1:50
Species cross-reactivity is determined by western blot.
Applications Key: W=Western Blotting, IP=Immunoprecipitation,
Specificity / Sensitivity
MCU (D2Z3B) recognizes endogenous levels of total MCU protein.
Source / Purification
Monoclonal antibody is produced by immunizing animals with a synthetic peptide corresponding to residues near the carboxy terminus of human MCU protein.
Western Blotting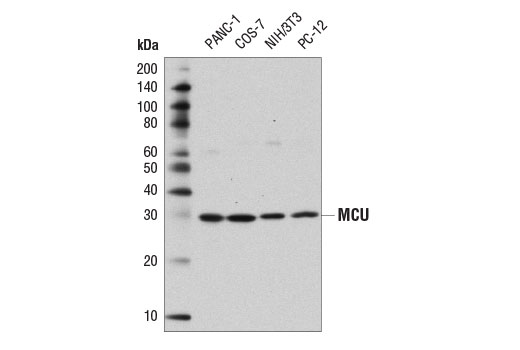 Western blot analysis of extracts from various cell lines using MCU (D2Z3B) Rabbit mAb.
Background
The mitochondrial calcium uniporter (MCU) is an inner membrane transport protein that is essential for the regulation of calcium uptake and the maintenance of mitochondrial calcium homeostasis (1). MCU is responsible for the rapid transport of calcium ions across the inner membrane and into the mitochondrial matrix, taking advantage of the membrane potential generated by the electron transport chain. Subsequent release of calcium from the matrix through antiporter proteins regulates a number of biological processes, including signal transduction, bioenergetics, and cell death and survival (2,3). The MCU protein contains a pair of transmembrane domains with both carboxy- and amino-terminal ends within the mitochondrial matrix (3). The surrounding uniporter complex contains a number of proteins that regulate calcium ion transport, including the mitochondrial calcium uniporter regulator 1 (MCUR1), mitochondrial calcium uptake proteins 1 and 2 (MICU1, MICU2), and the essential MCU regulator EMRE (3). MICU1 stabilizes the closed state of the transport complex and preserves the normal mitochondrial calcium concentration below the equilibrium level during resting conditions (4). The MCUR1 protein is an essential regulator of calcium uptake, with decreased ion transport in cells with reduced MCUR1 expression (2). EMRE is also essential for MCU transport function where it functions as bridge between MCU uniporter activity and the calcium-sensing MICU1/2 proteins (5).
Application References
Have you published research involving the use of our products? If so we'd love to hear about it. Please let us know!
Protocols
Companion Products
---
For Research Use Only. Not For Use In Diagnostic Procedures.
Cell Signaling Technology is a trademark of Cell Signaling Technology, Inc.
XP is a registered trademark of Cell Signaling Technology, Inc.
Tween is a registered trademark of ICI Americas, Inc.
Cell Signaling Technology® is a trademark of Cell Signaling Technology, Inc.
用户评论 --- 共 0 条
该产品暂无评论!