Product Pathways - Lymphocyte Signaling
OX40L (D6X2D) Rabbit mAb #14991
CD134L CD252 OX-40L OX40L TNFSF4
PhosphoSitePlus ® protein, site, and accession data: TNFSF4
Applications
Dilution
Species-Reactivity
Sensitivity
MW (kDa)
Isotype
W
1:1000
Human,
Endogenous
30
Rabbit IgG
IP
1:50
Species cross-reactivity is determined by western blot.
Applications Key: W=Western Blotting, IP=Immunoprecipitation,
Specificity / Sensitivity
OX40L (D6X2D) Rabbit mAb recognizes endogenous levels of total OX40L protein.
Source / Purification
Monoclonal antibody is produced by immunizing animals with a synthetic peptide corresponding to residues near the amino terminus of human OX40L protein.
Flow Cytometry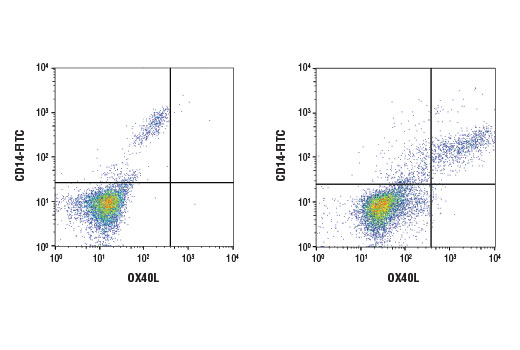 Flow cytometric analysis of human peripheral blood mononuclear cells, untreated (left) or treated (right), using OX40L (D6X2D) Rabbit mAb and co-stained with anti-human CD14 antibody. Cells were treated with Human Interleukin-4 (hIL-4) #8919 (20 ng/ml, 7 d) and Human Granulocyte Macrophage Colony Stimulating Factor (hGM-CSF) #8922 (50 ng/ml, 7 d). During the last 24 hours of treatment, Human Tumor Necrosis Factor-α (hTNF-α) #8902 (20 ng/ml), Human Interleukin-1β (hIL-1β) #8900 (20 ng/ml), and Lipopolysaccharides (LPS) #14011 (1 μg/ml) were added to the cells. Anti-rabbit IgG (H+L), F(ab')2 Fragment (Alexa Fluor® 647 Conjugate) #4414 was used as a secondary antibody.
Background
OX40 (TNFRSF4, CD134) is a member of the tumor necrosis factor (TNF) receptor superfamily that regulates T cell activity and immune responses. The OX40 protein contains four cysteine rich domains, a transmembrane domain, and a cytoplasmic tail containing a QEE motif (1,2). OX40 is primarily expressed on activated CD4+ and CD8+ T-cells, while the OX40 ligand (OX40L, TNFSF4, CD252) is predominantly expressed on activated antigen presenting cells (3-7). The engagement of OX40 with OX40L leads to the recruitment of TNF receptor-associated factors (TRAFs) and results in the formation of a TCR-independent signaling complex. One component of this complex, PKCθ, activates the NF-κB pathway (2,8). OX40 signaling through Akt can also enhance TCR signaling directly (9). Research studies indicate that the OX40L-OX40 pathway is associated with inflammation and autoimmune diseases (10). Additional research studies show that OX40 agonists augment anti-tumor immunity in several cancer types (11,12).
Application References
Have you published research involving the use of our products? If so we'd love to hear about it. Please let us know!
Protocols
Companion Products
---
For Research Use Only. Not For Use In Diagnostic Procedures.
Cell Signaling Technology is a trademark of Cell Signaling Technology, Inc.
Alexa Fluor is a registered trademark of Life Technologies Corporation.
Tween is a registered trademark of ICI Americas, Inc.
Cell Signaling Technology® is a trademark of Cell Signaling Technology, Inc.
用户评论 --- 共 0 条
该产品暂无评论!