Product Pathways - Protein Stability
TPP2 Antibody #14981
Aminopeptidases Exopeptidases Serine Proteases TPP-2 TPP-II TPP2 TPPII
PhosphoSitePlus ® protein, site, and accession data: TPP2
Applications
Dilution
Species-Reactivity
Sensitivity
MW (kDa)
Isotype
W
1:1000
Human,Mouse,Rat,Monkey,
Endogenous
140
Rabbit
IP
1:100
Species cross-reactivity is determined by western blot.
Applications Key: W=Western Blotting, IP=Immunoprecipitation,
Specificity / Sensitivity
TPP2 Antibody recognizes endogenous levels of total TPP2 protein. This antibody cross-reacts with a 35 kDa protein of unknown identity in some lysates.
Source / Purification
Polyclonal antibodies are produced by immunizing animals with a synthetic peptide corresponding to residues near the carboxy terminus of human TPP2 protein. Antibodies are purified by protein A and peptide affinity chromatography.
Western Blotting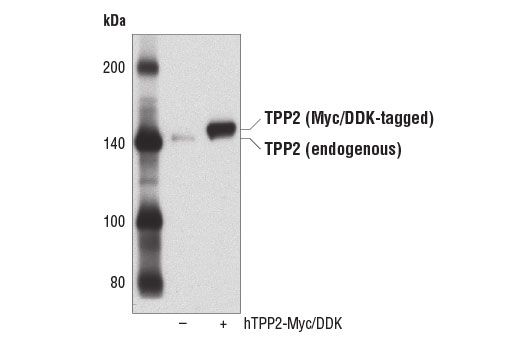 Western blot analysis of extracts from 293T cells, mock transfected (-) or transfected with a construct expressing Myc/DDK-tagged full-length human TPP2 protein (hTPP2-Myc/DDK; +), using TPP2 Antibody.
Background
Tripeptidyl-peptidase 2 (TPP2) is a well-conserved subtilisin-like amino peptidase that is expressed predominantly in the cytoplasmic compartment (1,2). The amino-terminal region of TPP2 harbors a catalytic triad that is characteristic of serine proteases and allows for TPP2 cleavage of tripeptides from the free amino terminus of oligopeptide substrates (3). TPP2 is a large (>5MDa) homooligomeric protease in which proteolytic activity is regulated by subunit oligomerization (4,5). While TPP2 plays a general role in amino acid homeostasis, research studies demonstrate that TPP2 is involved in MHC class I antigen presentation (6,7) and DNA-damage repair (8). TPP2 activity is required for the survival of Burkitt's lymphoma cells, suggesting a possible role for TPP2 in oncogenesis (9). Additional research studies show that TPP2 proteolytic activity is important for regulating lysosome abundance and glycolytic metabolism and that TPP2 deficiency leads to defects in adaptive immunity, innate immunity, and nervous system development (10).
Application References
Have you published research involving the use of our products? If so we'd love to hear about it. Please let us know!
Protocols
Companion Products
---
For Research Use Only. Not For Use In Diagnostic Procedures.
Cell Signaling Technology is a trademark of Cell Signaling Technology, Inc.
Tween is a registered trademark of ICI Americas, Inc.
Cell Signaling Technology® is a trademark of Cell Signaling Technology, Inc.
用户评论 --- 共 0 条
该产品暂无评论!